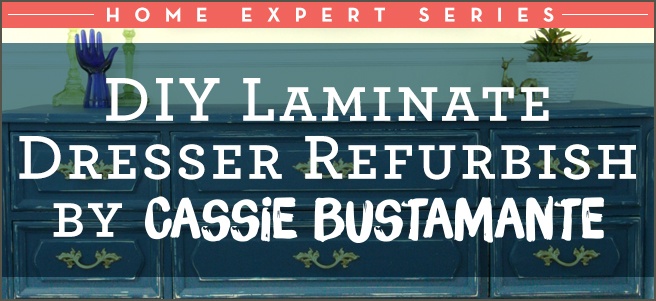 We're happy to announce that Cassie Bustamante from Primitive and Proper has partnered up with Furniture.com to share some amazing refurbishing projects exclusively with Pursuit of Home. Enjoy!
---
Something I have heard many times in my refurbishing journeys is, "Oh I had to pass because it was laminate." The truth is that laminate is just a thick shiny coating, like a heavy coat of polyurethane on a solid wood piece of furniture.Like polyurethane, laminate can be painted.
Believe it or not, this dresser started out life with an ugly plastic looking speckled laminate top.
Wouldn't it have been a shame to pass this piece up simply because of it's hideous speckled laminate top? It had so much potential!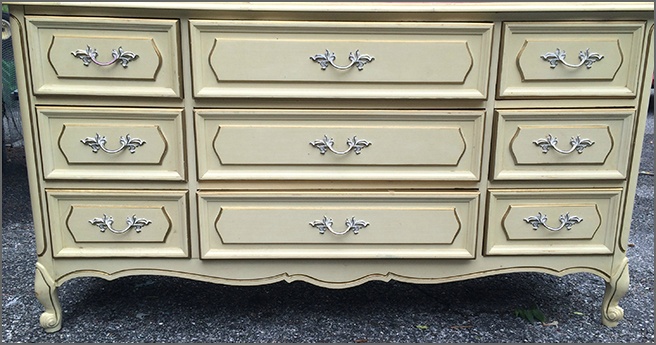 Here is a close up of the top so you can see its speckled glory….
I am not really sure why the speckled look was ever a thing back in the day, but thank goodness we have products (and skills) these days to cover it up.
To prepare this dresser for painting the process was simple and similar to prepping any other piece.
First, of course, I put on a mask to prevent dust inhalation. Then using an orbital sander with 180 grit sandpaper, I sanded the entire laminate area so that it lost its shine. If I tried to sand the entire laminate off, I would be sanding all day, and I would uncover most likely composite wood underneath which is not as durable. To give you an idea of how much to I sanded the laminate, here is a look at it post sanding; it's pretty similar to the above photo, just duller.
Once the laminate area was sanded, I continued with the rest of the dresser body. I removed all of the existing hardware and put it aside, and used the orbital sander to lightly sand the body. Because the drawers and legs had details that were inaccessible to the sander, I used a loose piece of sandpaper in the same grit and sanded those hard to reach areas by hand.
After the entire piece was sanded I used a damp rag to wipe away dust, allowed it to try, and was ready to prime. Because I prefer to keep things as clean as possible, I used a water based and low VOC primer. I applied one coat with a brush, and allowed it to dry. I then tested the laminate top by attempting to scratch the primer off, and found that it adhered beautifully. (I do this on all pieces where there is a possibility of paint or primer not sticking; I call it "the scratch test".)
With the primer sticking perfectly, this piece was ready for paint! I created a custom mix with some General Finishes blues I had on hand and applied the first coat with a brush.


After one coat it was clear another was needed, so I continued with a second coat. Once the second coat was dry, I used my sandpaper to lightly distress the edges. This dresser had so many great details and curves that I wanted them to pop. Distressing the edges lightly allows for those features to really stand out.

To protect the finish I had worked so hard to achieve, and ensure durability, I applied a coat of satin finishing wax.
Finally, the crowning touch was putting the hardware back in place. While the dresser's paint was drying, I had sprayed the existing hardware with a gold spray paint to freshen it up. I knew it would shine beautifully against the darker blue.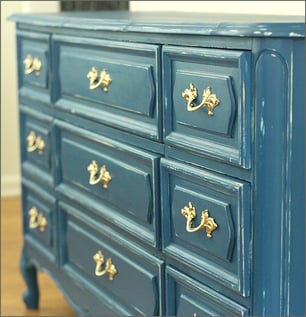 You would never know that hideous speckled laminate top is lurking underneath the new finish.


This piece now has an entirely new look and has been taken from 70's faux-finish French to vintage hip.
---
We hope Cassie's DIY project helped ease your laminate fears! Looking for another project? Try this dining chair makeover. For even more DIY crafts, check out our Pinterest page.