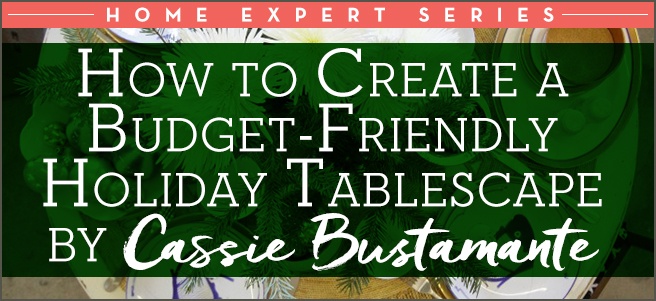 Cassie Bustamante, from Primitive and Proper, is back and bringing us some holiday cheer! She is going to show us how to dress up your table for the upcoming holiday meals. Enjoy a table setting that looks as good as your food tastes!
---
I am just going to start by saying I LOVE CHRISTMAS! Ok, that came out more as a shout, but it needed emphasis. I love the baking, the giving, the decorating, the smells of the season, the time with family and friends, the music… I love every nook and cranny this season has to offer.
One of my favorite things is opening my home to friends and family on a cold winter's night to celebrate. Being indoors gathered around a beautiful table, reflecting on the year behind us, and cherishing our relationships fills my heart like no other meal around a table does. Of course, creating a beautifully set table can cost a pretty penny as everything adds up. I am going to show you how I created this gorgeous and festive table with thrifted finds perfect for a hostess on a budget.
(I do want to note that this tablescape was created for my shop, Sweet Clover, so pardon the concrete floors and shop background, but it would look even lovelier in a home!)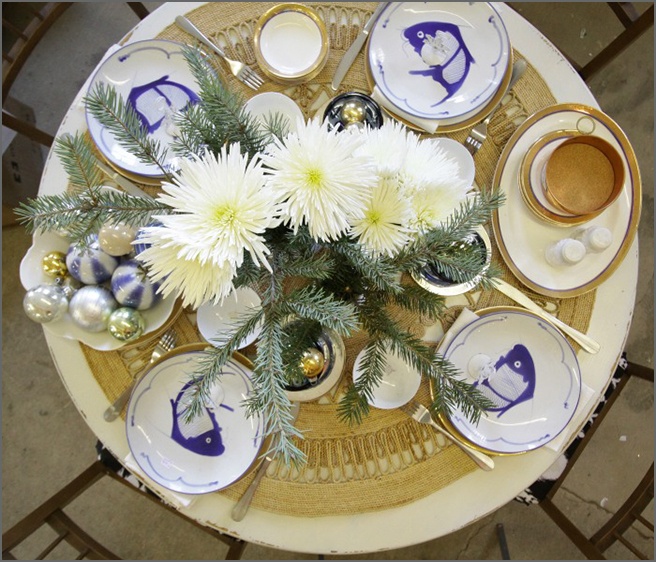 The first thing you want to do when creating a budget friendly table is hit the thrift shops and flea markets to collect pieces that will work for your aesthetic. Better yet, if you have items and dishes at home you can use, shop your own house before even heading out to purchase anything.
We were creating a blue, white, gold, and silver table, so we gathered a collection of blue, white, and gold dishes, blue goblets, and blue and white vases. Gather anything else that might work to accessorize your table, such as the woven wall hanging we used as backdrop.
Before doing anything, clear your entire table off to prepare.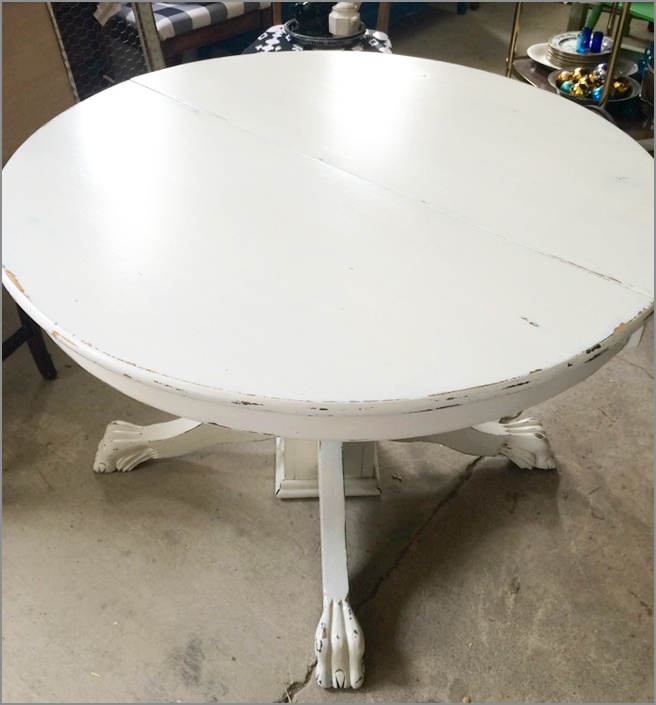 Once you have cleared your table, you can start placing your layers. In this case, our base layer was this vintage woven round piece which fit our table almost perfectly, acting as a tablecloth.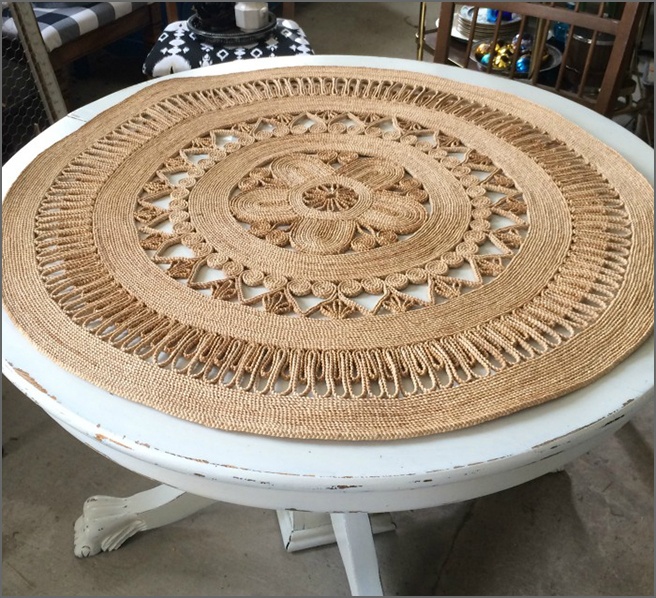 Start arranging your dishes and accessories. As you can see below, we placed blue and white thrifted fish plates on the table to start. We also added a trio of vintage thrifted blue and white vases to the center.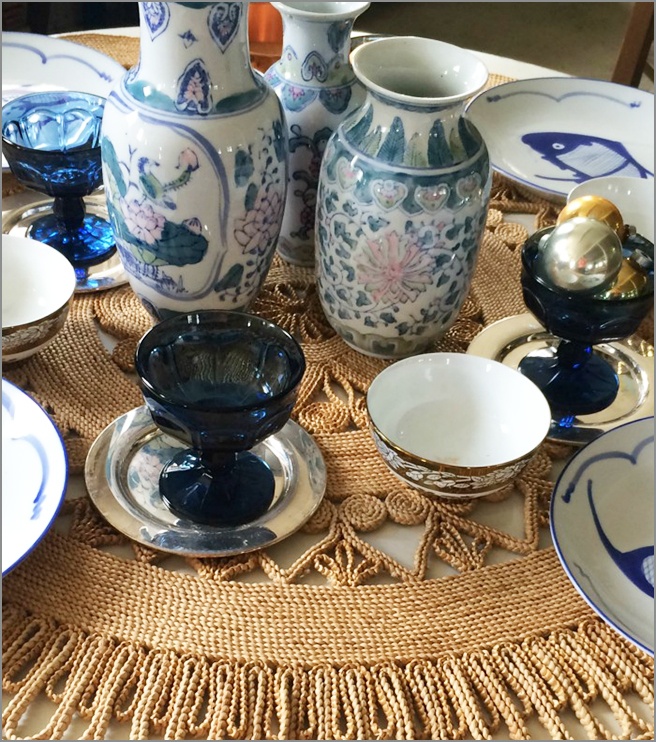 We had started arranging the table, when we found a set of beautiful white vintage china with a blue and gold rim that we knew would be a perfect addition. We added it in, layered under the other plates, and mixed onto the table. We also layered cloth napkins between plates. Layering napkins this way is a great way to hide imperfect napkins. At this point we added in silverware as well.

The final steps really make the table come to live and also bring out the holiday feel. Accessorize by adding ornaments into your table. We filled a bowl with vintage silver and gold vintage and newer ornaments, but you can use anything that fits the look of your table.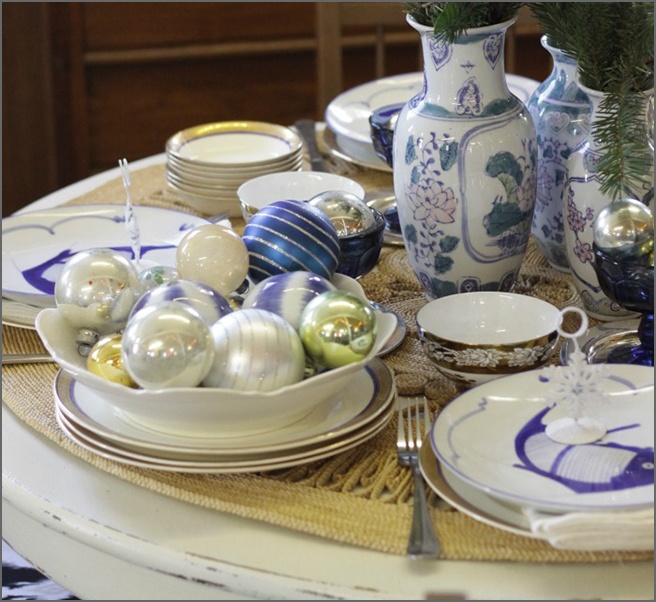 And finally, fresh flowers will always take any space up a notch and breathe life into it. We shopped the inexpensive flowers at the grocery store and found these white over-sized mums for just $5 for the bunch. We loved that they were neutral and large. I cut evergreen branches from a tree in my own yard to mix in with the flowers for a wintery feel.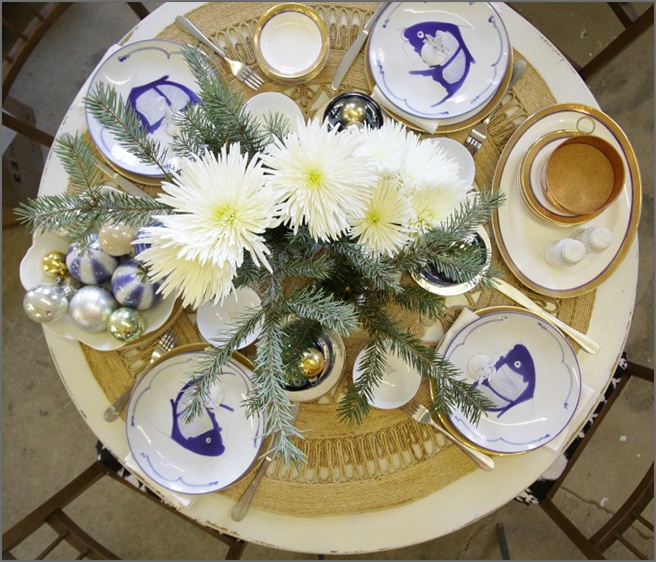 All you need to make this table perfect is a gathering of your favorite people! I hope you enjoy this holiday season, and wish you and yours the coziest and happiest times. Cheers!


---
For more fabulous decor ideas, check out the rest of our Home Expert Series, or visit our Pinterest page.