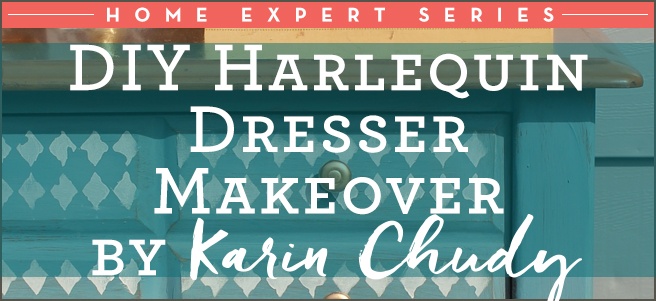 Hello again, my Beauties! It's time for another makeover! This time I am going to show you how to take a plain, old, boring nightstand and give it a makeover using some sample paint and a craft store stencil.
---
I started with an old nightstand that had been given to me by my sister-in-law. She had no use of it and told me if I wanted it I could have it. Of course I wanted it; I never turn down free furniture.
Lucky for me, it was in great shape and the top was in practically perfect condition. It was just a bit boring. This is where the fun begins! I like to try all different paint colors and rather than buying a full-sized can, I buy the little sample pots so I can get a feel for the color before fully committing. The sample size was more than enough paint for this project.
I painted the base and drawer fronts with American Paint company's Backyard Pond. It's a nice cool color. This paint is a mineral/chalk/clay based paint so it is water based.That means it has to be sealed with either wax or poly.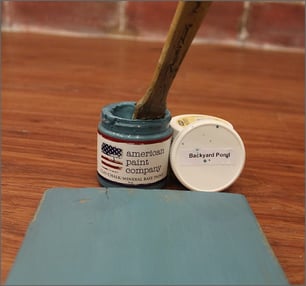 I gave my table two thin coats of paint since I wanted a more distressed look. Before waxing the piece, I took a little sponge and wiped the edges where I wanted the old wood to show through. Then I waxed and buffed the piece to cure the paint and seal it.
This piece would look great if you were to stop at this stage, but I like to add a little extra fun to my pieces. For that, I chose to add a fun and funky little harlequin pattern.You can find lots of choices of stencils at your local craft store. Now since its hard to paint a piece and explain I will demonstrate the stenciling technique on this board.
My board has been painted, waxed and buffed just like the dresser. For the stenciling I simple use a flat stencil brush, some acrylic craft paint, and my stencil.The key to stenciling is to not overload your brush.You actually need very little paint. If you overload your brush the paint will bleed through the stencil. I keep a rag next to me when stenciling so I can blot the paint off the brush before stenciling. You can see on my brush how little paint is actually on it.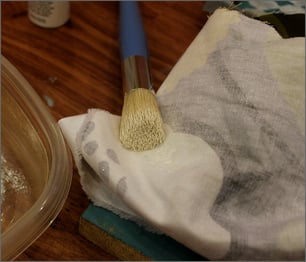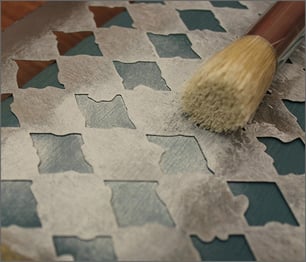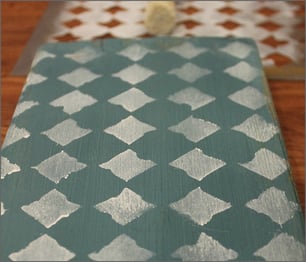 The best part of the dry brush stenciling is that it's very easy to go over it with a second coat if you wish to darken up the paint. It also dries very quickly because of the small amount of paint. When the stenciled area is dry you can wax over that and buff that up to, to give it an even distressed look. Once the stenciling is done, your piece is ready to be displayed!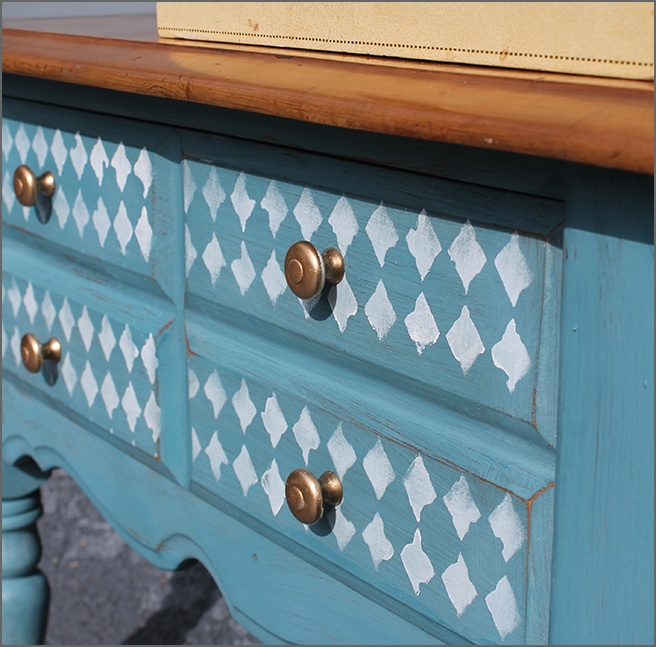 It is now the perfect piece to accent a living room or a place to keep things next to your bed. So next time you see that boring, old, boxy piece of furniture, imagine it in a fun new color with a funky little pop of pattern!


---
For more amazing DIY projects, head to our Pinterest page, or check out an earlier post about upcycling a thrift store landscape painting!