We've launched our new outdoor furniture line just in time for summer! And in the spirit of enjoying your very own backyard, we've rounded up the best in tips and tricks in caring for your outdoor furniture. Outdoor furniture sees many different elements throughout the course of the year -- especially during the summer. Because of this, maintaining your outdoor furniture is a tad different than how you care for you family sofa.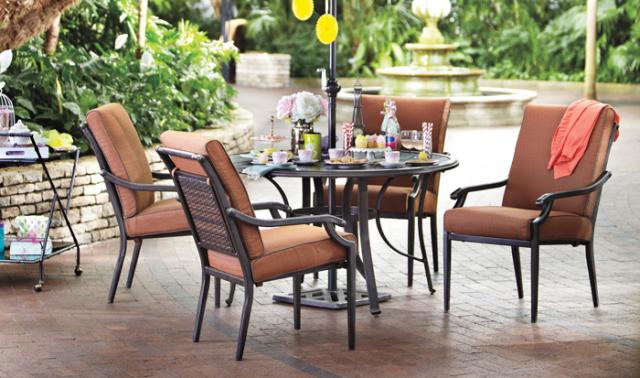 First and foremost, it's important to take a look at the manufacturer or care instructions. These instructions will tell you what material it's made of and how best to clean it. There are four basic types of outdoor materials: rattan/wicker, wood, metal, and plastic. And of course there are outdoor fabrics as well. Each type of material should be treated uniquely and cleaned accordingly.
Rattan/Wicker
Rattan or wicker furniture is usually made from natural fibers, coated papers, and reinforced with metal for a stronger structure. Since natural woven materials are susceptible to damage, most outdoor pieces come covered in clear resin, varnish, or paint. This way sunshine and water won't wear on the fibers. Since the sun can damage your rattan or wicker pieces overtime, it's important to leave your furniture outside for no more than two weeks if you're not using it. When cleaning rattan or wicker furniture, use a dry paint brush with mild soap and water. Or use a vacuum. Try to avoid using too much water as you'll weaken the fibers.
Wood
Wood is a common outdoor furniture material. And most woods chosen for outdoor furniture tend to be more durable and hold up against the elements. However, it's always a good idea to use a sealant on your wood furniture every 1-3 years. A sealant will help preserve the color and protect against general wear and tear. If you're looking to remove stains or mildew, mix a solution of 1 gallon hot water with powdered oxygen bleach. Then use the solution to scrub the furniture with a soft bristle brush and then rinse with water. And to restore the original wood coloring, use fine-grit sandpaper and then rinse off. In the event that the area of wood is too large to sandpaper, mix water with oxalic acid crystals (also known as wood brightener) and that should do the trick.
Metal
Since most metals are prone to rust outside, most outdoor metal furniture is treated with resin, clear varnish, or paint. So when cleaning, use a mild solution such as soap and water and then wipe it clean. After cleaning, apply a quality liquid paste or auto paste wax with a lint-free cloth, to seal it and give it a sheen. If you do need to do a touch-up with paint, try and find the closest color in an outdoor paint, or reach out to the manufacturer. Avoid painting on days that are extremely humid as the increase in air moisture can affect the way the paint dries.
Fabric
All outdoor fabrics are considered performance fabrics so they are extra resistant to sun damage, stains, moisture, and mildew. Outdoor fabric has pigment-infused fibers so that they are less prone to damage from elements. If you have removable outdoor covers, then you can put them through the wash or hand-wash them. Or for covers that are not removable, try a power-washer or rinsing them with mild soap and water. In order to avoid permanent staining, regularly brush off dirt and debris and rinse as needed.
More Tips
Apply a fabric protector such as 303 High Tech Fabric Guard once a year.
Before making a purchase, look at the seat width and depth for maximum comfort and lounging.
Outdoor umbrellas not only keep you cool, but they also keep your outdoor furniture in tip-top shape by blocking natural elements.
When you're not using your outdoor furniture, store them inside or invest in furniture covers.
Before cleaning and caring for your outdoor pieces, read the care instructions so you know what materials it's made from and how to best clean it.