It's winter and your bedroom should be cozy. And whether you need a cozy bedroom for functional purposes (heat doesn't quite work right?) or you just love that comfy winter look, it's the perfect time of the year to transform your bedroom into your snowy oasis. It's also another great way you can embrace the holiday staycation.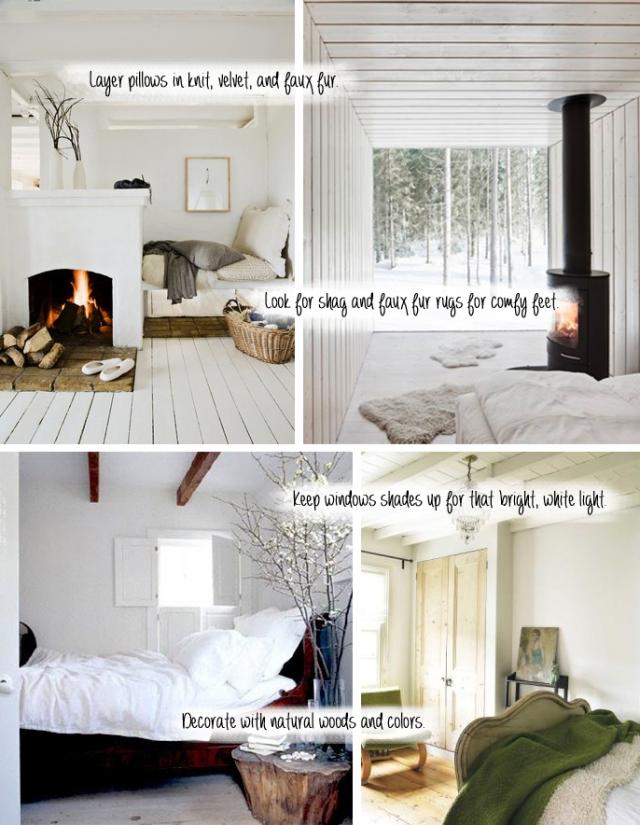 Layer, Layer, Layer
You know what they say -- if you want to be warm in the winter, pile on the layers. And the same rule applies to your bed. Embrace comforters, throw pillows, and blankets in softer and thicker fabrics -- like faux fur or cable-knit. You'll want to look for these in more neutral colors, like beige, gray, white, and brown to bring the outdoors in. If you want to add in some accent colors, look for more subtle hues like forest green, burgundy red, or slate blue. To keep the look consistent throughout the space, add extra pillows and blankets on to chairs or benches.
Lower the Lights
There's nothing that makes a room more cozy and intimate than lowering the lights. Try turning off your main lighting and go for table lamps or floor lamps. Look for lower wattage bulbs or lights that have dimmers -- these will give the space a nice soothing glow. And for an even more intimate effect, skip out on the lamps and lights all together and light some candles. Add a touch of holiday spirit with a pine or cinnamon-smelling candle.
Bring in Winter's Light
Bring winter's beauty inside! If your windows have good insulation, then open your curtains or blinds to show off nature's beauty. Fresh snow brings in a stunning white light – which you can in our winter bedroom inspiration photos. To keep your bedroom insulated, look for thickly-lined curtains or drapes in velvet or canvas.
Stay on Your Toes
It's almost impossible to be cozy if your feet are cold. A great pair of slippers always does the trick, but when it comes to your bedroom, look for soft and furry rugs. Such as faux fur or shag rugs in neutral tones. These rugs will be comfortable under your feet but also keep the space white and light.
And learn how to transform the rest of your home into a winter wonderland with our staycation guide.
Image Sources: Pinterest, Photo Problem, Elements of Style, and Mother Earth Living.