Whether you have kids, pets, or neither, it's important to find the right fabrics for your living room. It's important that your sofa/sectionals, accent chairs, or ottomans -- really anything that will be used frequently -- is the right fabric for your taste and lifestyle . There are many types of fabric out there, so we've pulled together a list of common fabrics and what they're best for.
---
Acetate:

Acetate was developed to be similar to silk, however acetate can withstand mildew, pilling, and shrinking. Similar to silk, it doesn't offer a lot of resistance against dirt, wearing, wrinkling, and the sun. So if you have kids, pets, or lots of natural light, avoid this material.

Acrylic: Acrylic is meant to be an imitation to wool that holds up to wear, wrinkles, dirt, and fading. High-quality acrylics are great for kids and pets as they hold up to a good amount of wear.

Bonded-Leather: Bonded leather is great for those that love the look of leather but need something a bit more durable. Bonded leather can be easily wiped down and isn't as prone to scratching and fading as real leather is. We love the luxe look of the Carmen collection's white bonded-leather sofa.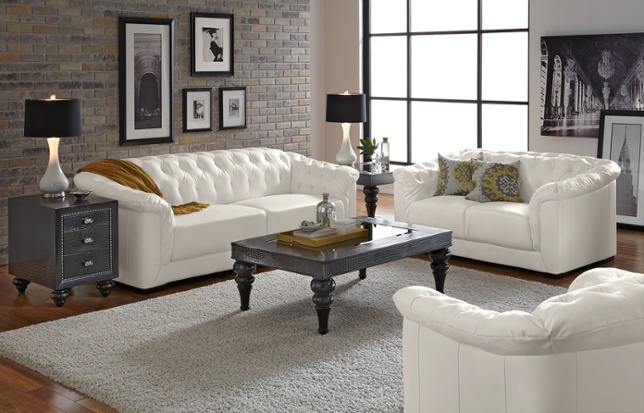 Cotton: Cotton is a natural fiber that's great for standing up to wear, fading, and pilling. However, it's prone to staining and wrinkling -- just like with cotton clothing. If you like the look of cotton but want something more durable, look for a cotton blend with other fibers that will make it more resistant. For example, damask cotton weaves are best for formal spaces while canvas weaves such as duck and sailcloth are better for casual spaces. We love the light and refreshing look of our Nantucket stripe accent chair.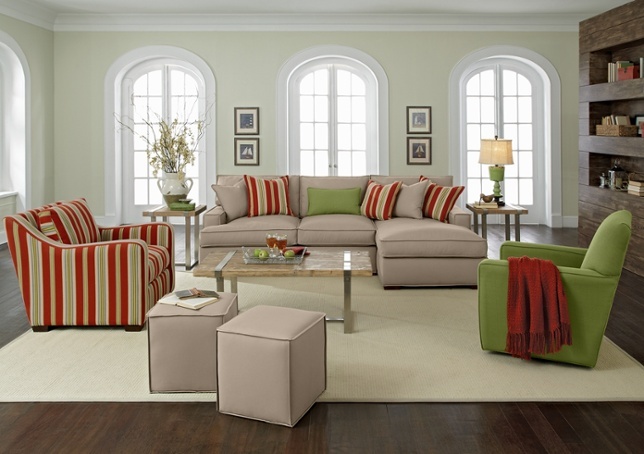 Leather: A tough and durable material, leather can be vacuumed and wiped down with a damp cloth as needed. Just make sure you use a leather conditioner or saddle soap. Depending on the type of leather, this material can be good for kids. We say depending, because some true leathers scratch easily as part of their character. So if you have furry friends, they can easily scratch the leather with their paws.
Micro-Fiber: One of the best options for kids, pets, and an active family lifestyle, microfiber is soft and tough, and holds up against absorption and water spillage. And it gives off a luxurious look, similar to velvet, like with this Perry microfiber sectional.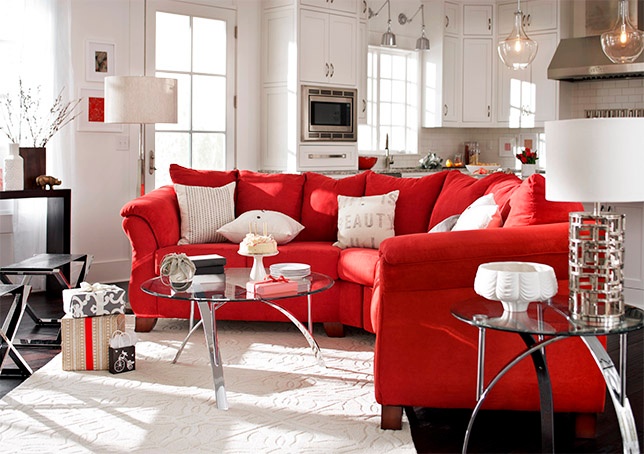 Nylon-Blend: Nylon is blended with other fabrics which makes it one of the most durable upholstery fabrics. It's great for kids and pets as it doesn't soil or wrinkle, but keep it out of direct sunlight as it can fade.
Olefin: Olefin is a great choice for kids and pets -- it holds up very well to wear and tear and doesn't really have any cons.
Polyester-Blend: If you're looking for a more durable fabric, look for a polyester-blend. When added to other fabrics, polyester provides resistance against wrinkles, wear, and fading. We love the look of polyester blend in the Pompano collection's modern sofa.
Wool: Wool and wool blends are sturdy and durable, standing up to pilling, fading, wrinkling, and dirt. In most cases, you'll be looking for an upholstered item that's a wool blend so it's easier to clean. You'll also avoid felting the fibers -- something that's unique to wool. Wool blends can be spot-cleaned easily when needed, but can be more difficult for more intense cleanings.
Vinyl: Vinyl is less expensive than true leather and great for kids and pets in your living room. You can simply wipe them down -- it's very rare that this material will absorb stains.
Silk: If you have an extremely formal and elegant room where kids and pets won't be present, then opt for silk. As you probably know, it's a delicate fabric that needs to be professional cleaned when dirty. But be sure to avoid having any food or drink nearby.
---
We hope this helps you find the perfect piece for your home! Don't forget to visit Furniture.com to explore your fabric options!