Time to open up the patio doors, invite friends and family over, and get ready for spring entertaining. We've got some great tips to help you get ready for outdoor entertaining and getting your backyard ready just in time -- don't forget about all the lawn and garden prep!
Bug Prevention
If you're moving your entertaining to the outdoors, one of your biggest concerns is probably bug prevention. Don't let mosquitoes or other bugs ruin your event. Invest in decorative citronella candles, lanterns, or sprays. These candles and lanterns will not only keep the bugs away, but they'll also add an intimate atmosphere to your outdoor party. So your guests won't leave with bug bites all over.
Outdoor Lighting
Need to add some decor and vibe to your outdoor space in a pinch? Outdoor hanging lights are a great way to do this. Hang them from your gazebo or across perpendicular roofs on an angle. And invest in extra long cording so you can plug in your hanging lights.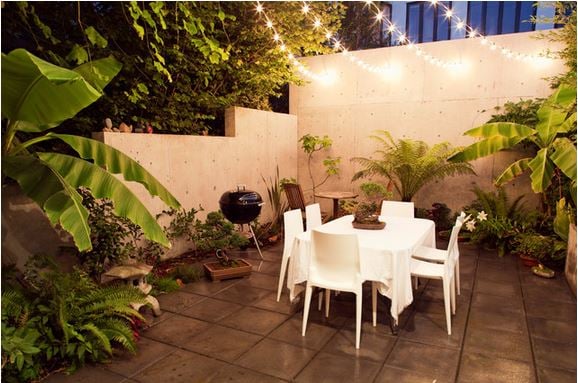 Prep the Yard
Before you think of inviting guests over for a backyard party, make sure you've prepped your lawn and garden. Time to pull out the weeds and get your grass back to green after a harsh winter. Stagger potted plants on your stairs and invest in fresh cut flowers for your table decor. A true garden party is exactly what it sounds like: embracing the garden!
Make It Cozy
Make your outdoor lounging area cozy and comfortable -- especially with bright and colorful cushions, throw pillows, and umbrellas. Spring (and summer!) is the perfect time to embrace color everywhere. So have fun with your background. Pair up coral with lime green, or pink with teal blue, and don't be afraid to mix and match different patterns. Outdoor decor is very forgiving to mixing and matching both patterns and color palettes.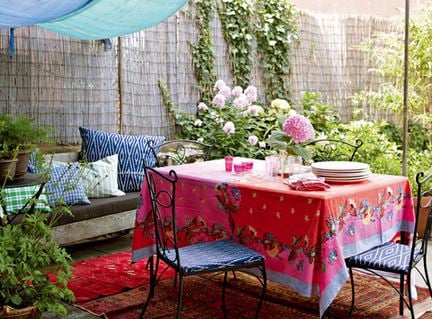 Games
The best part of any outdoor party? Games! Set-up outdoor games such as croquet, badminton, cornhole, shuffleboard, or handball. Have game stations set up, so guests can rotate throughout each game for hours of endless fun.
Image Sources: KBC Developments, SF Green Spaces, Debi Treloar.