Choosing a recliner isn't as simple as it sounds. There are so many technologies and features to consider when choosing the right recliner for you. Whether you're looking to add a reclining seat to your living room or a recliner set to an in-home theater or media room, choosing the right reclining features is an important decision. We've got some helpful things to consider when choosing the right recliner for you.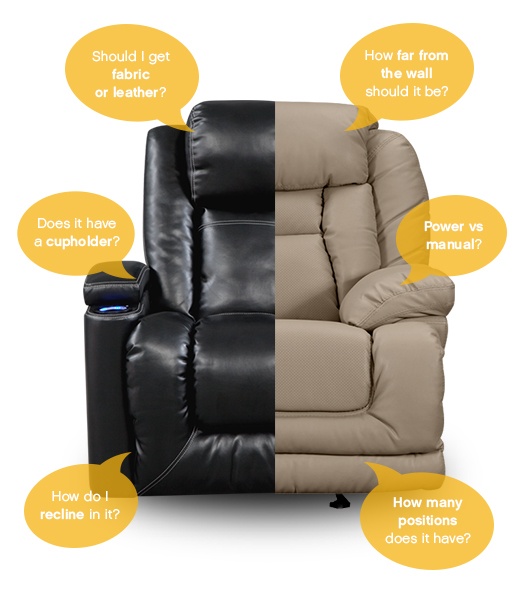 Fabric vs Leather
One of the first things to think about is whether you'd like a fabric or leather recliner. There are some things to consider when making this decision. Bonded leather tends to be easier to clean than fabric, as you can simply wipe down spills. But fabric can be softer and retain heat much better than a leather feel. Before making your purchase, take a look at the type of fabric and the cleaning instructions. Some fabrics, like microfiber are great for pets and kids and are almost as easy to clean as bonded leather.
Power Versus Manual
The difference between power and manual is the functionality of the reclining. With a manual recliner, your back moves the chair into the position you'd like. So there is more control in getting to your preferred reclining position. With a power recliner, there are several different positions you can recline into. However, you adjust the recliner using a level on the side or near the foot. Both style chairs allow you to recline easily, but in different ways.
Cord Length
Every power recliner has a different cord length, and this can help you determine how far it needs to be from an outlet. If you're sofa isn't going up against a wall with an outlet, then the length of the cord (and a power recliner) is something to think about. You'll want to make sure that you can't trip over the cord if it has to be plugged-in across the room. And this may also affect the overall layout of your living room or home theater space.
Comfort
The more padded a recliner is, the comfier it is. Many recliners offer a padding pillow-like headrest, and some headrests are even adjustable. Other recliners offer up pillow-top arms which are extra padding arms for maximum comfort.
Cupholders and Storage
A recliner doesn't just have to be for sitting! Many recliners come with arm storage. So if you're looking for a place to store the TV remote or magazine, a recliner with storage might be perfect for you. Other recliners offer cupholders and even light-up cupholders for when you're watching a move in the dark. These types of features are perfect for an in-home theater.
Positions
Some recliners offer unlimited positions, where as some offer 3-4. Think about how you like to sit when you watch TV or read a book. Do you find yourself moving around frequently, trying to find the right spot? Or, do you stay stationary? Answering this question will help you determine how many positions your chair should have and can help eliminate all the reclining choices out there.