Spring is in the air and cheerful colors are everywhere. Celebrate spring's arrival and lighten up your home from winter with pops of color. We love the new colors of the season with Pantone's bold and stunning Dazzling Blue, soothing Hemlock, awakening Freesia, vivacious Cayenne, calming Placid Blue, gentle Violet Tulip, edgy Paloma, bright Celosia Orange, cheerful Radiant Orchid, and neutral Sand. But you may be thinking: how do I bring in these colors to my current space? And, what do these colors go with? For example, if you have a palette of navy blues, Celosia Orange may be a bit too strong. But Hemlock can work nicely.
Freesia
Pantone's Freesia is an electric yellow. But you can create a sophisticated look with just the right splash of fun using this yellow with a bold navy, bright teal, or a muted chocolate. But use this color in moderation -- it's a strong color and has the power to take over other colors.
Placid Blue
Go tropical with Pantone's Placid Blue -- a calming and low-key color that lets more powerful and saturated colors take over, while toning them down.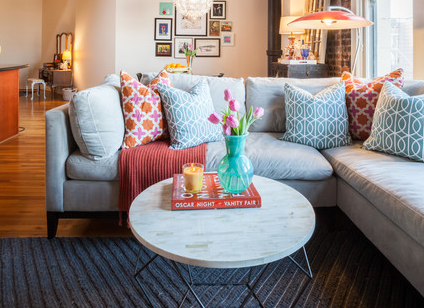 Hemlock
Escape to your own in-home resort with Pantone's Hemlock. It's a soothing, soft green, giving you the freedom to mix it with more saturated and cheerful colors. Such as a preppy green, a cheerful coral, or even a warm beige. We love the pairings in green and coral in this room. And the whites help tie everything together.

Image Sources: Kristina Wilson Design and Alisha Gwen Interior Design.