Presidents' Day is a national holiday when the US celebrates and remembers all presidents (past and present). This year Presidents' Day falls on February 16th and we wanted to showcase some of our more "presidential" pieces. We're highlighting five pieces that share names with some of our past presidents and a fun fact about that president!
---
1. Zachary Taylor
Zachary Taylor, our twelfth president, was not present for his presidential nomination and did not find out about it for some time after. According to AmericanHistory.about.com, "In 1848, the Whig Party nominated Taylor to be president without his knowledge or presence at the nominating convention. He refused to pay the postage and did not find out about the nomination for weeks." Talk about a surprise!
To pay homage to President Taylor, we're showing this Taylor twin corner bed. This bed is perfect for any kid! If they don't want to go to school in the morning, just tell them about President Taylor's nomination. They may never know what they miss!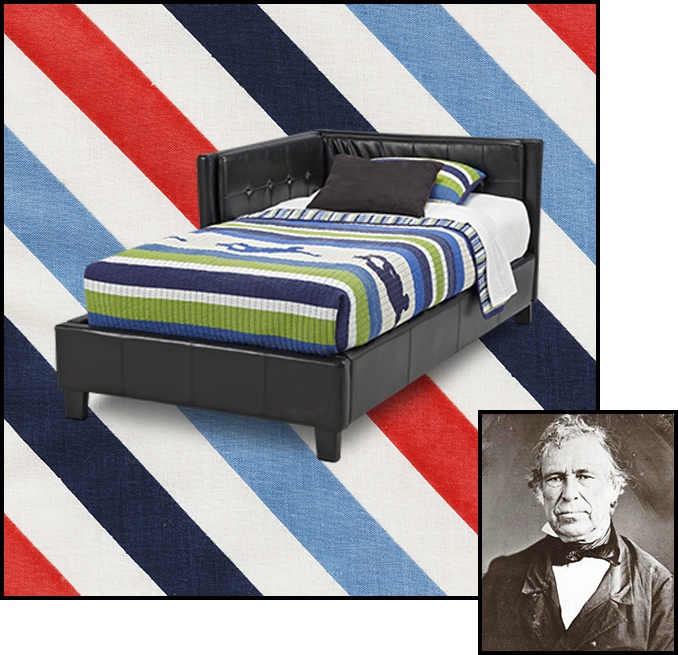 (Photo: http://upload.wikimedia.org/wikipedia/commons/d/d9/Zachary_Taylor-circa1850.jpg)
2. James Monroe
James Monroe, the fifth president, was nicknamed 'The Last Cocked Hat'! "The term 'Cocked Hats' was given to the presidents who played significant roles in the American revolution of independence." We tip our hats to you, sir.
This Monroe acccent chest is as glamorous as President Monroe was. This piece stands out and makes a statement, just like good ol' Monroe. This Monroe accent chest will play a significant role in your home decor.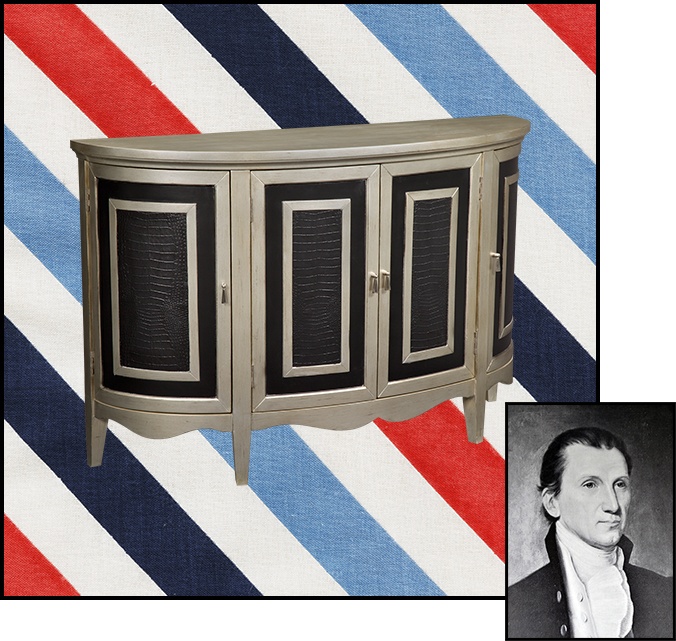 3. Martin Van Buren
Ah, Van Buren. What's there not to love about our eighth president. From his eclectic hair style to his stylish ascot, Van Buren was a pretty okay guy. In fact, he is the reason the word "okay" exists today. Van Buren grew up in Kinderhook, New York. When he got into politics he was nicknamed Old Kinderhook, which soon got abbreviated OK. People used 'Is it OK' when talking about Van Buren and that's where the word okay comes from. So he's OK by us!
This Martin dining room set is the perfect pair with Van Buren. We can almost picture Old Kinderhook hanging out at this table with his friends bragging about how he came up with a word. Okay, that probably didn't happen, but we can totally picture it.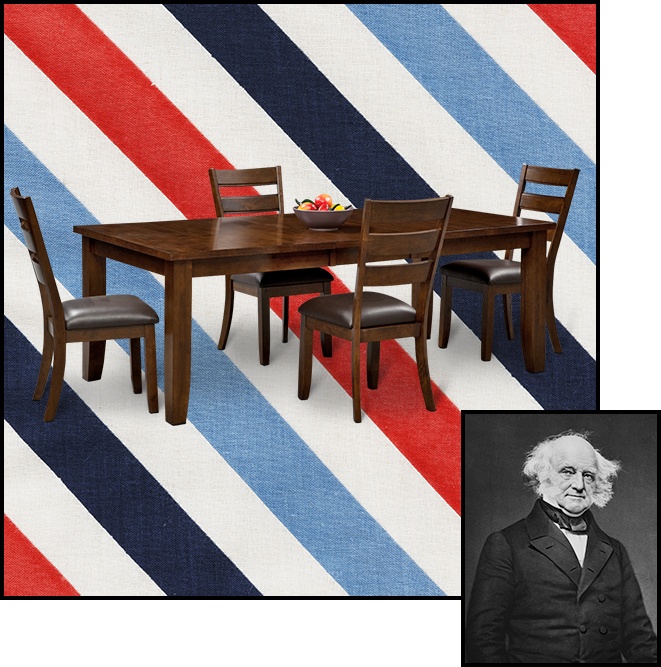 (Photo: http://upload.wikimedia.org/wikipedia/commons/9/94/Martin_Van_Buren_edit.jpg)
4. James Madison
James Madison, our fourth president, appeared on US currency. Not many of us know this though because he was on the $5,000 bill. Degreed.com noted, "Most of these $5,000 bills have been taken out of circulation, but according to an article on Mental Floss, there are nearly 350 of them left." If you own a $5,000 bill or ever happen to be fortuitous enough to just stumble across one, hang on to it.
While there are a lot of presidents with the first name James, we think this James accent chest should be dedicated to James Madison. Its simulated leather straps and nailhead detailing make it look luxurious and vintage- kind of like a $5,000 bill.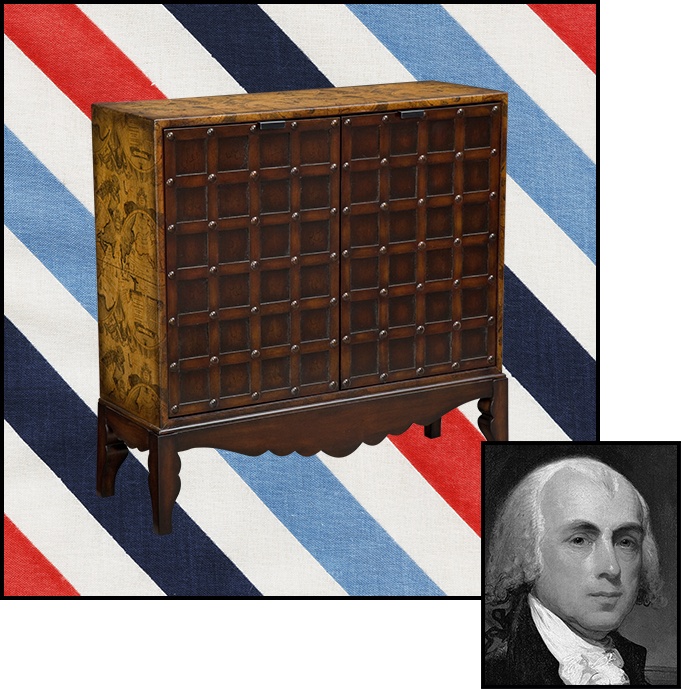 (Photo: http://www.history.org/Foundation/journal/Summer08/images/Gov02.jpg)
5. Chester Arthur
Last but not least is our twenty-first president, Chester Arthur. We found out that Arthur was a furniture lover. How could we not share this? In fact, Chester Arthur may have held the first-ever White House yard sale. He apparently sold whatever wasn't built into the foundation of the White House (24 wagon full of stuff) to get enough money for new furniture. If only there was a Furniture.com back in the day...
This is too good. Our site carries an accent chest called the Arthur. Chest...Arthur...Chester Arthur. It was meant to be. This piece even looks like it was reclaimed, just as a piece from his famous yard sale would've been. Fate.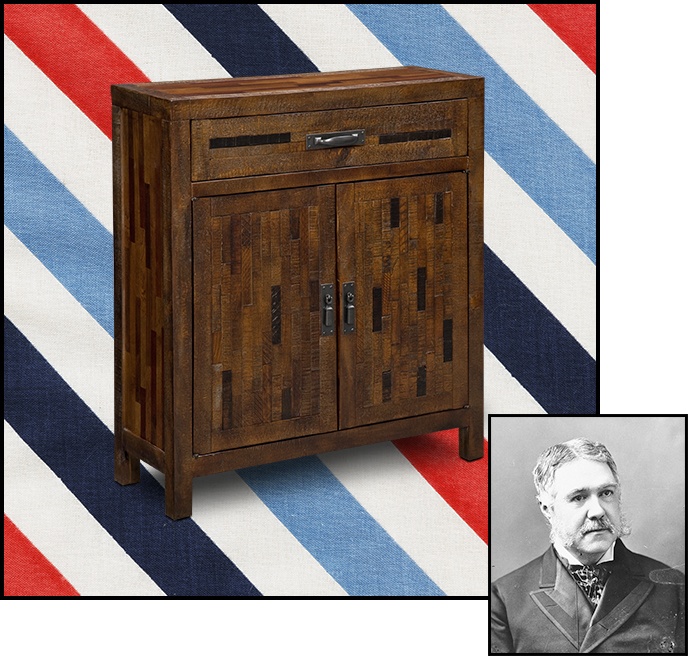 (Photo: http://i.huffpost.com/gen/833472/thumbs/o-CHESTER-ALAN-ARTHUR-facebook.jpg)
---
We hope you enjoyed our tribute to five of our presidents! If Chester Arthur inspired you to redecorate your home, check out Furniture.com. (Hopefully you won't have to sell all of your stuff first!)