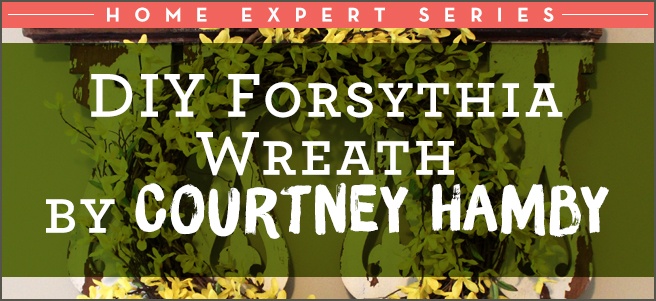 We're happy to announce that Courtney Hamby from The Hamby Home has partnered up with Furniture.com to share some amazing DIY projects exclusively with Pursuit of Home. Enjoy!
---
Wreaths are a great way to add character to a home. I love switching mine up and moving them around my house. I have wanted a forsythia wreath for a while but never found one that fit into my budget so I decided to make one instead. You can do this with any long greenery stems as well.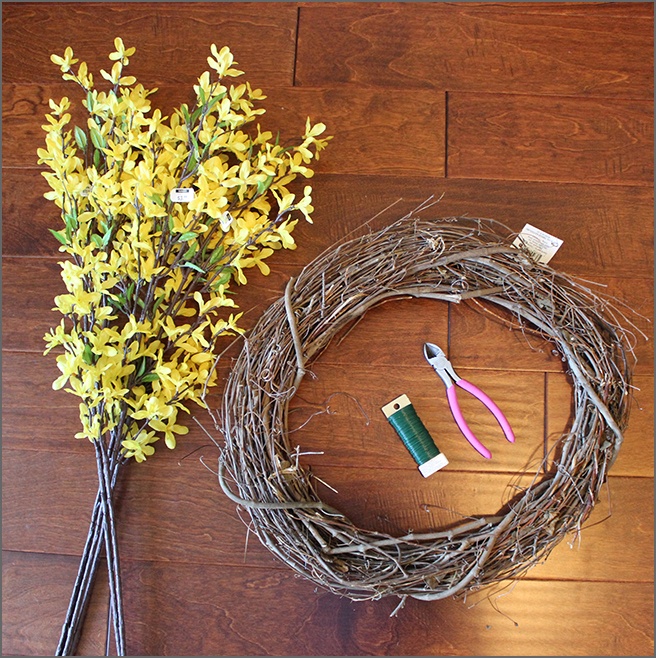 Supplies:

Directions:
Trim all the stems about 2 inches below the lowest flower.
Lay the forsythia on top of the grapevine wreath,
you can wedge the end of the stem into the
wreath
form or lay it right on top.
Cut a 4 inch strip of floral wire and hook
it through
the wreath and around the stem, then twist to secure it tightly.
Clip the excess wire and tuck the ends into the wreath.
Each stem will need to be secured with floral wire
in 2 to 3 places to mimic the wreath shape.


Step 3:
Repeat step 2 for two more forsythias.
You should have full coverage with three
flowers with a few thin spots.
Step 4:
For the last two forsythias, cut them
in half to give you two short pieces to
Wedge and secure with floral wire in
the areas where you need more blooms.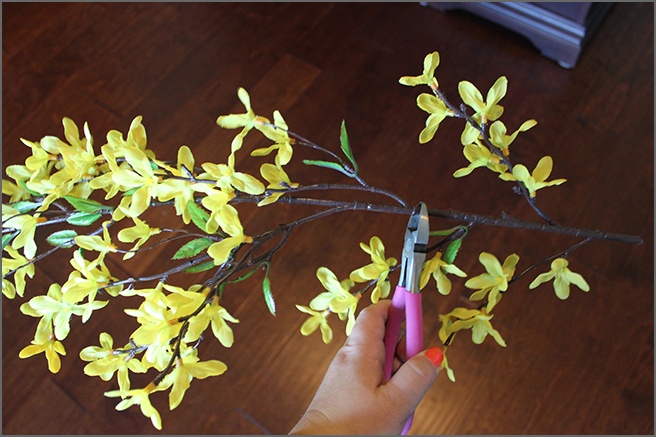 Step 5:
I had a couple areas that were very full
so I trimmed on little branch here and
there and dispersed the trimmings to any bare areas.
T
here is no exact place, just try to evenly
arrange the pieces around the wreath.
.
That's all there is to it! There is no right or wrong way to arrange the stems which makes this a very simple DIY wreath! This one worked perfectly in our guest room to compliment accents of yellow, I just looped some green ribbon through the back of the grapevine wreath and tied it to a piece of old porch railing.

---
We hope this wreath helps beautify your home! If you've caught the DIY bug, try refurbishing a laminate dresser! And for even more DIY projects, visit our Pinterest page.