Moving around constantly can cause issues when it comes to buying and picking out furniture. To get a better sense of the challenges involved with moving around a lot, we interviewed Laura, a military mom who has moved seven times! Laura shared her experiences with relocating and how to pick furniture that fits an unpredictable lifestyle.
---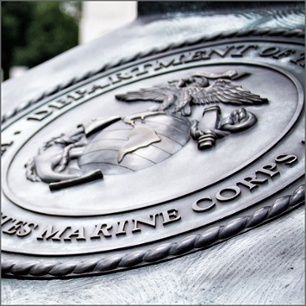 1. Tell us a little about yourself!
I'm a Marine wife of about ten years and I've moved seven times within those ten years! Our moves have spanned from the East to West Coast, the Midwest, and overseas. We have a daughter who is just turning
seven and she has ventured with us on five of the seven moves.
2. How many states/countries have you lived in?
I have lived in nine states (Massachusetts, Ohio, Indiana, Pennsylvania, Rhode Island, Mississippi, Hawaii, Virginia, and California) and two countries (US and Germany). My husband has lived in even more!
3. What's the hardest part about moving around so much?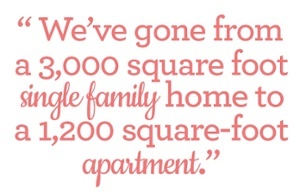 The hardest part of moving is saying goodbye to great friends and having to start over from scratch in a brand new place. It gets even harder when kids and school transitions are involved.
Another tricky part is the huge variation in home size and type. We've gone from a 3,000 square-foot single family home to a 1,200 square-foot apartment. Having furniture that can fit all shapes and sizes of homes is a tough challege! Our furniture also undergoes a lot of wear and tear each time we move. Even the highest quality pieces start to fall apart over time.
4. What's the hardest part about buying furniture for a family?
The hardest part about buying furniture is trying to find something that is durable enough to survive many moves, yet pretty enough to be showcased! The pieces also need to be very versatile. My favorite peices have doubled as bedroom furniture in some homes and dining room accents in others! Having pieces that I can mix-and-match is key.
5. What's your favorite piece of furniture that you currently own? How long have you had it?
Unfortunately, my favorite piece is currently sitting in storage since our temporary home is pretty small. But it's a beautiful wine hutch! It is one of those fun items that has worked in our kitchen, dining room, living room, and I think even in a guest room once. It is the perfect piece to fill an empty nook and it works well with our other furniture.
6. What furniture tips for you have for other families that move around a lot?
Buy pieces that can serve multiple purposes,

You have never have enough storage and shelving.

Durable finish is key! I've found that more rustic, already somewhat-distressed pieces fare better with each move. The extra "character" they acquire makes them even more unique!
7. What do you look for in a piece of furniture when you buy it?
I definitley look for that mix-and-match quality. If there is a piece that I know will go with the majority of my furniture and can be put in any room, it's a keeper. I can't buy a piece that is strictly for a certain room because there is never a guarantee it will fit in that room in the next house!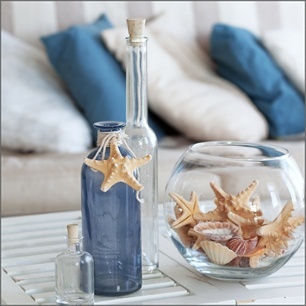 8. What's your design style of choice?
My favorite style is nautical. I love lighter woods and a lot of whites, blues, and greens. Our homes end up being an eclectic mix because we buy different furniture and art in each place we live to remind us of our different homes. At the pace we're moving we've built up quite the collection! We love the unique and personal memories our home offers.
9. What's the one piece of furniture you're most likely to leave behind and buy new?
Easy choice- the guest room bed. I haven't had the time to refurnish the room. That thing has followed us through many moves and at this point, it's just begging to be left behind.
10. Where would your dream home be?
My dream home would definitely be on the beach somewhere. I'd want high ceilings, lots of light, and an open floor plan. The centerpiece of the home would be a large and inviting kitchen area connected to an even larger "great room" with a fantastic fireplace!
---
For us, home is where the heart is. We hope Laura's story can inspire and help you when you decide to move or buy furniture. Furniture.com has a great selection at affordable prices. So check us out!