Cassie Bustamante, from Primitive and Proper, loves saving old furniture from the wood chipper. She found a dresser she wasn't a huge fan of, but loved the drawers and decided to make something beautiful with one of them. Check it out!
---
I am a big believer in saving furniture from the landfill, and sometimes that means just salvaging parts of pieces that have truly seen better days. I found a funky waterfall style dresser at a flea market for a steal, but the body had some issues and it just wasn't worth the save. However, it had 4 in-tact and I really liked the chippy layers of mustard yellow paint with hints of blue peeking through.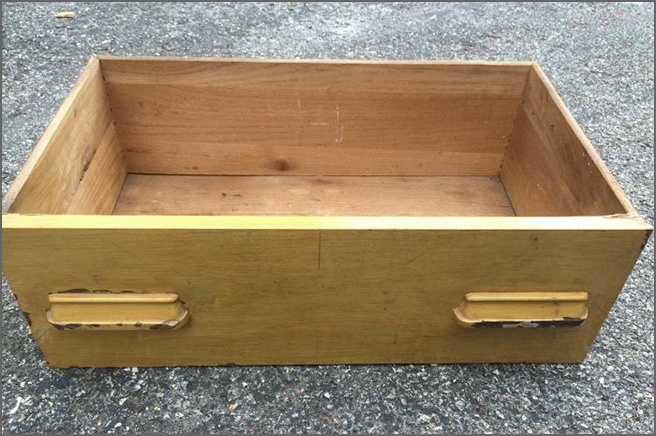 I decided to save the drawers and reinvent them, giving them other uses. I've seen drawers repurposed into shelves, under bed storage, and so much more. Today I am going to show you how to make an old drawer into a jewelry organizer.
You will need paint and a brush, measuring tape, a drill and drill bit, tea cup hooks, pliers, and petite vintage dishes (optional).
First, paint the drawer. Since it will all be exposed you want to make sure you paint every surface. I loved the existing old yellow paint on the drawer front, but there was no way I was going to be able to match it exactly, so I chose a complementary color, General Finishes Persian Blue. The drawer had little bits of blue showing under the yellow, so this color brought that out nicely. The paint went on beautifully, and I was able to give it just one coat.
Once the paint is dry, measure the inside of the drawer front, both length and width. You will use these measurements to mark where you want to put your teacup hooks. My drawer was 25" wide, so I kept them spaced 2.5" apart from one another. It was 8" deep, so I spaced them just 2" apart going back. I drew dots with a pencil to mark each spot that a teacup hook would be placed.
Check the size of your teacup hooks, and select a drill bit that is slightly smaller in width. Often the package will tell you what size bit to use, but if not, just make sure it's slightly narrower than the hook you want to screw in place. Drill pilot holes on each of your marks, careful not to drill through the drawer front.
Now screw your teacup hooks into your pilot holes as tightly as you can. To tighten them further, use a pliers to turn them, facing the hook towards you so that it's easy to access them when using to hang jewelry.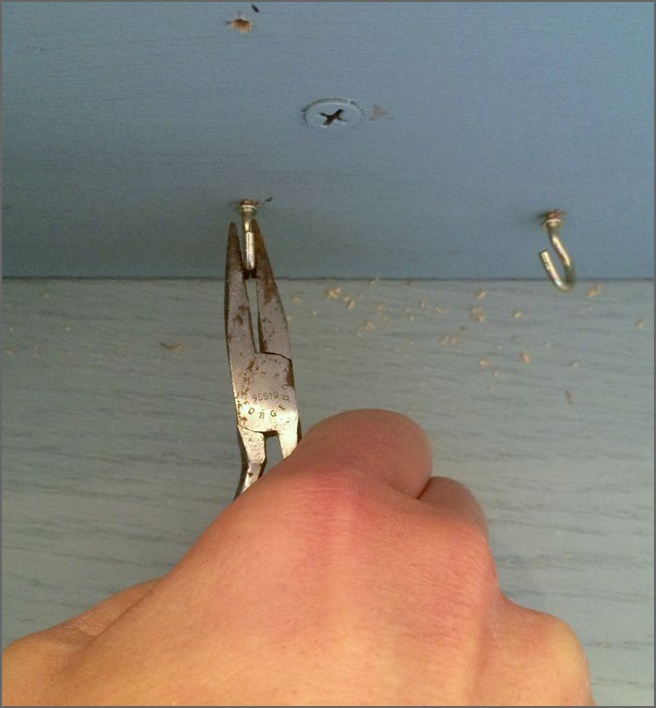 Start with the bottom and work your way up the grid of holes to leave your hands more room to work. Continue working your way up until all of the hooks are in place, tightening with the pliers as you go.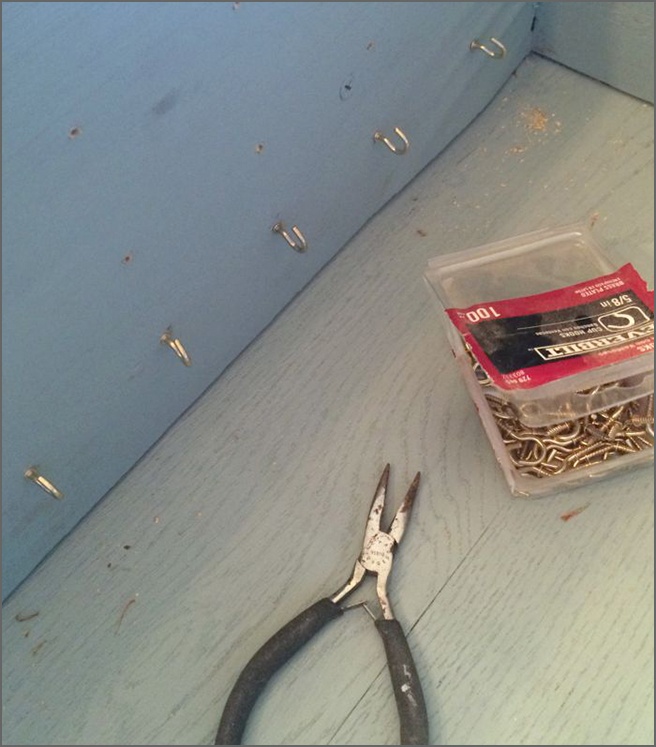 Now comes the fun part- organize your jewelry! With so many hooks, there is a hook for every necklace, bracelet, or dangly earring pair you own. You can add little vintage dishes to store small earrings and bracelets as well.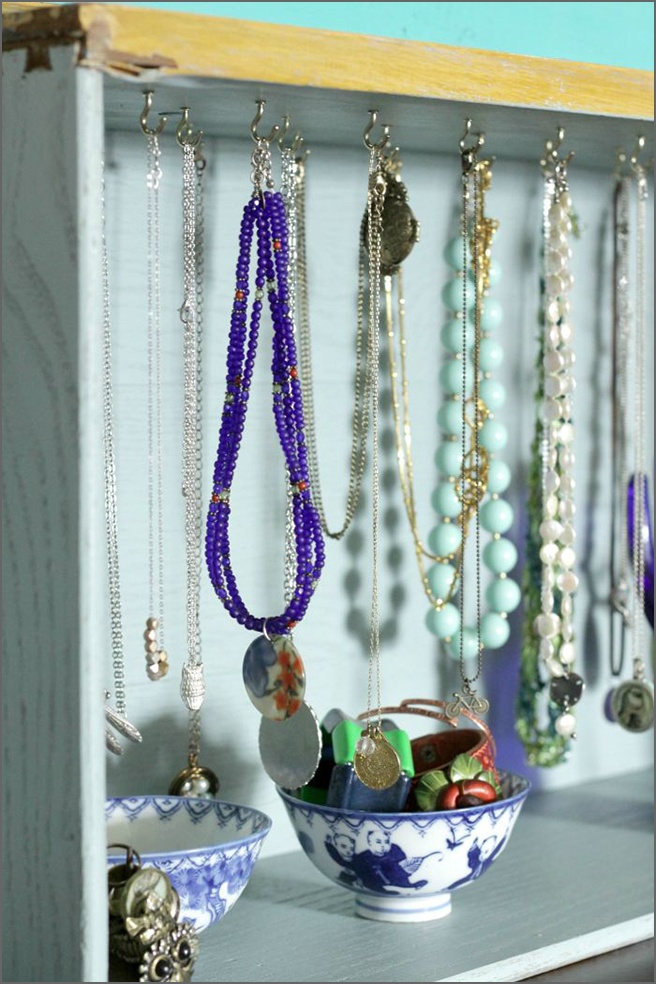 This project was fairly simple, and saved a piece from its ultimate destruction at the dump. Of course, I still have three more perfectly good drawers, and my wheels are spinning, ready to churn out some new repurposed ideas!
---
For more fun DIY projects, check out the rest of the Home Expert Series, or follow us on Pinterest!