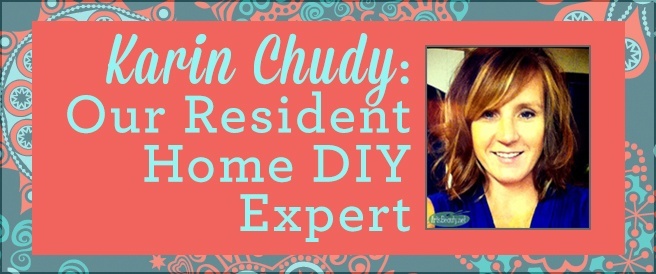 Hello all my new Beauties! I am beyond thrilled to be writing for Furniture.com.
First off, let me introduce myself. My name is Karin and I am the artist, creator, and writer of the blog
ART IS BEAUTY
. This blog focuses on DIY projects that involve furniture.
---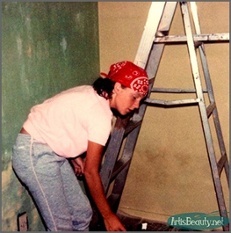 As long as I can remember I have been interested in art, design, and decorating. One of my first decorating
memories was when my mother decided I could finally redo my own bedroom. The only catch was I had to do
everything
. This included removing the psychedelic 6
0's wallpaper, pulling off decorative wainscoting and trim, and belt sanding the walls to remove the old glue that held up the paneling. I was 13 and I did it without even thinking about the work. The important thing was that I was going to get to do it all and I was going to get to use power tools! Today, almost 30 (wink wink) years later, I still get as excited as I did back then.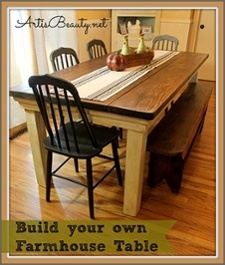 I recently built a farmhouse table for my family and I got the same rush of excitement as I did when I was 13. I got to build it with my own two hands (well, four with the help of my husband) and I got to use power tools and completely design it myself. What more could a girl ask for? I wanted to build something that my kids and I could sit around for years laughing, joking, and spilling various items on without worrying about the piece.
Furniture is very sentimental to me. In all my years of working with furniture I still remember every piece that I have built or remodeled, what it meant to me at the time, and how each piece had its own personality. The personalities of the various pieces resonate throughout the whole house; for example, my artwork covers the walls and painted pieces that I have rescued from the wood chipper are in every room. When I walk in my front door I think, "eclectic and comfortable."
In addition to my jobs of Artist/Furniture Refurbisher and General DIY Expert, my main jobs are being a Mother and Wife. I, like most of you, embody that dreaded word "busy" most of the time. Finding furniture that fits my style is tough, let alone finding the time to shop. The last time I went furniture shopping it was a four-week process of fitting it into our schedule, getting someone to watch the kids (at the time our four kids were small and we didn't want the added stress of herding them into every furniture store we went to), and driving back and forth to the stores, just to be harassed by that predatory salesperson. The mere thought of it stressed me out.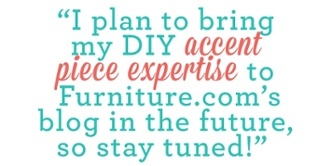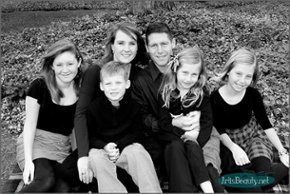 .
Lately, I've started looking online for furniture that matches the style of my home. In a serendipitous moment I was typing comfortable, eclectic, artistic sofa into my search when the clouds parted and there it was, the Marquette
beige sofa
from
Furniture.com
. My computer must know my dream furniture because it lead me right to Furniture.com. I had never heard of them but I was immediately drawn to their selection! I couldn't believe it, I started looking at the Hemingway
beige accent chair
and a various selection of other pieces. I had virtually started redesigning my whole living room all while drinking my coffee and sitting in my beloved painting clothes. I didn't even have to put on any makeup...always a bonus.
Of my many DIY passions, creating accent pieces for my home is a front runner. Whether I'm creating artwork or small simple pieces to go with the furniture I already have, I love knowing that my hands had something to do with what I am looking at as I walk in the room. I plan to bring my DIY accent piece DIY expertise to Furniture.com's blog in the future, so stay tuned!
Now if you will please excuse me, I am going to go pour myself another cup of coffee while I go look at bedroom furniture online.
---
Check back soon for a fun DIY project from Karin! In the meantime, check out Furniture.com to find the piece that speaks to you.