It's that time of the year. You're either going back to school or heading to campus for the first time. If you're moving into your first dorm or off-campus apartment, you'll want to make the most out of your space -- and make sure it's the place to be. Think smart and get started with a college dorm checklist.
Plan Ahead
While you may not be moving in for a couple of weeks, think ahead. Moving in while juggling classes, activities, and parties is no fun. There are three things you can do beforehand to make sure you're not opening up boxes and books at the same time.
See if you can get a floorplan for your dorm or apartment ahead of time -- either from your college residence life or your landlord. Or, take measurements. You may think your space is bigger (or smaller!) than it actually is. And you might end up with too much or, too little furniture. You may find that you can fit a queen-size bed and a sofa. Or that your space is smaller, and a loft bed will do the trick. There are also great apps to help you plan out your space such as Floorplanner.
Figure out what you need. You'll most likely need a bed, a place to do work, and of course, a place to hang out with friends.
Order furniture online now. Why? Because you'll want to make sure the furniture has time to arrive and you have everything settled before classes start.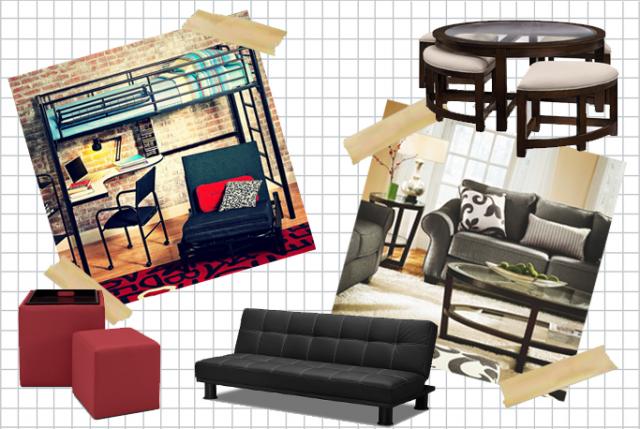 Make the Best of a Small Space
You'll most likely be moving into a smaller space. But don't worry, you can make the most of it! Here's a tip: when you're laying out your furniture, try and place larger items against the wall. That way you'll have more open space for friends and fun. And invest in multi-function pieces such as bunkbeds with work stations underneath, like the All-In-One Loftbed. Or a futon, which is perfect for lounging with books during the week -- and great for having friends over on the weekends. Get something versatile such as the Phyllo Futon Sofa Bed. Another great option for additional seating is the Four Corners Cocktail Table with Benches so you can have even more friends over (for all those study sessions).
Don't Forget Storage
If you're moving into your first dorm room, you might not know what to expect. Most dorm rooms are low on storage. For example, you might have a 3 ft. wide closet that you have to share with your roommate! And you'll use all that storage for books, clothing, laundry, and bathroom accessories. Opt for items like the Tania Nesting Ottomans which provides extra seating, storage, and snacking space.
Have Fun
It's your first "on-your-own" space. Have fun with it! And make sure it's a reflection of you and your personality.
Products (left to right): All-In-One Loftbed, Four Corners Cocktail Table, Colette Full Sleeper Sofa, Tania Nesting Ottomans, Phyllo Futon Sofa Bed.