We're happy to announce that Ada Gonzalez from Ada's Interior Design has partnered up with Furniture.com to share some DIY projects exclusively with Pursuit of Home. Get ready to craft!
---
I love shopping for decorative pillows for my clients, but since I specialize in affordable decorating solutions I aim to shave costs whenever I can without affecting the quality of the design and comfort of my clients. A new decorative pillow can cost from approximately $15 to $275. So, a great solution is to keep your old pillow insert and replace your pillow cover.
Great, right? However, you still have to either spend good money on a pillow cover or sew your own pillow cover. Who has time to sew? I barely had time to chew my breakfast this morning. Also, sewing is not the easiest task for those of us who are enemies with their sewing machine. My machine spends most of it's time giving me the evil eye (of the needle).
So, until my sewing machine and I become BFFs, my economical solution is to make pillow covers without sewing, in just one minute! Yep, it takes just ONE MINUTE to make these pillow covers using simple folding techniques.
Instead of having to buy tons of different pillows for every season, or holiday, or every time your pillow starts to fade, simply invest in buying fabric (you just need 1 yard!) to cover 14" to 16" pillows.
The pretty pink chevron pillow cover I created for this post cost me just $4.00. I know, amazing, right?!
Just 1 yard (36" of fabric)

Directions:
Fold the yard of fabric into a square (36"x36")
Place pillow in the center and diagonal to the corner of the fabric
Fold right flap onto the pillow
Fold left flap onto the pillow
Tuck in the edges (as if you were gift wrapping a present)
Fold over the remaining flaps
Tie the two visible flaps into a soft knot
Now, admire your work.


Bonus! You now have 2 designs. One side has a bow design, and the other is a beautiful flat design.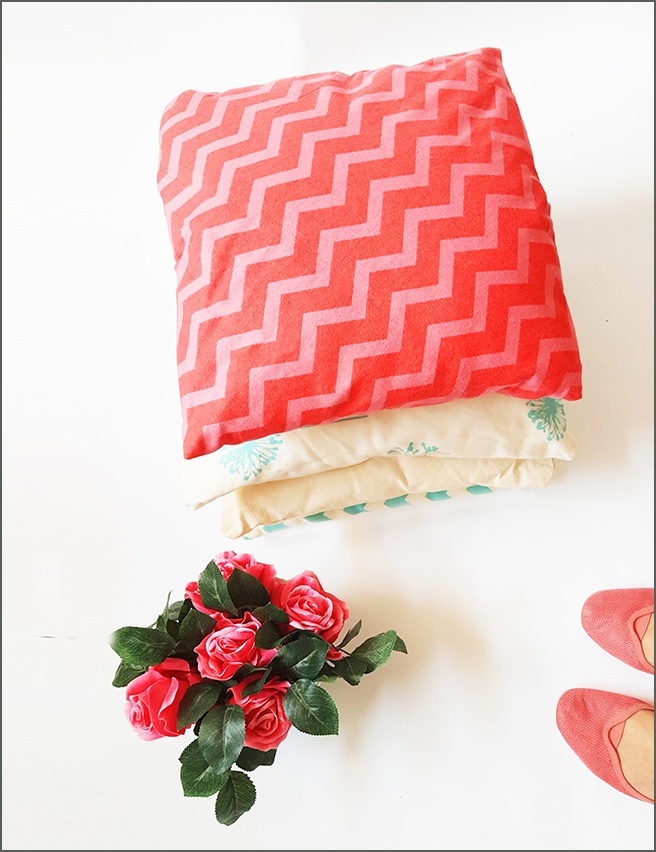 ---
For more interior decorating tips (with an economical flair of course!), head over to Ada's website. Or check out the rest of the Home Expert Series on Furniture.com's Pinterest page!