Cassie Bustmante, from Primitive and Proper, shows us how to organize a kid's room. Her daughter, Emmy, is a fan of her stuff and doesn't want to part ways with it. Cassie takes us on a tour of Emmy's room and demonstrates how to keep a maximalist kid's room neat and tidy.
---
As the new year rolls in we all get that itch to purge, clean, organize. This year I've been ruthlessly purging… why bother purchasing pretty storage containers just to hoard all the "stuff" I have? Unfortunately my 9-year-old daughter, Emmy, doesn't share that view. No way, jose! She likes her stuff, so we needed to find some way to corral and organize the chaos that was taking over her bedroom.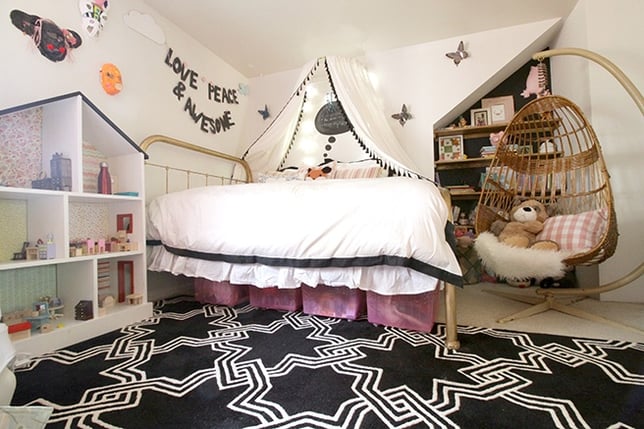 To organize her room, we created several "zones" including areas for art supplies, toys, books, clothing, and jewelry. Her bedroom is not a large space, so we utilized every square inch to work for her and her interests. She helped me organize and decorate, which I highly recommend. The more your child is involved, the more likely they will work to keep it organized. I also allow her to display her own artwork in her room, which gives her a sense of ownership and pride.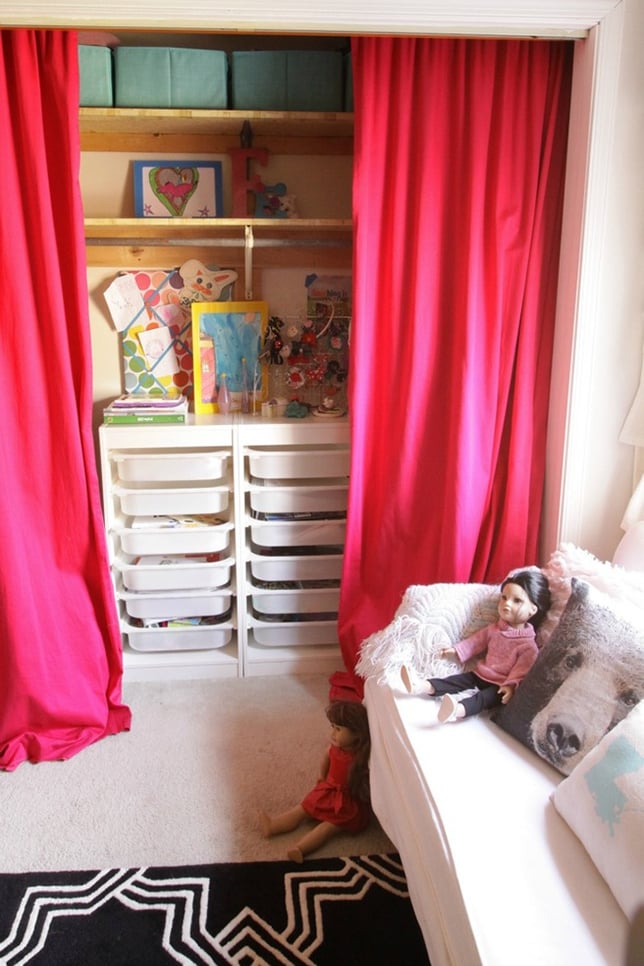 Let's talk about the closet, first, which is where we gathered all of her art supplies. My maximalist is also quite the artist, delving into watercolors, acrylics, sculpting, sketching and doodling, sewing and embroidery, as well as bead and jewelry making… basically if it's creative she wants to try it - and I encourage it! Art supplies are small and numerous so storage containers that are on the smaller side work well. I had a few of these units in my garage storing hardware, but I knew they would be better put to use in her closet for art supplies.
We placed them in the center of her closet so that her clothing still has plenty of room to hang on either side of the piece. The shallow bins are perfect for sorting her utensils and supplies.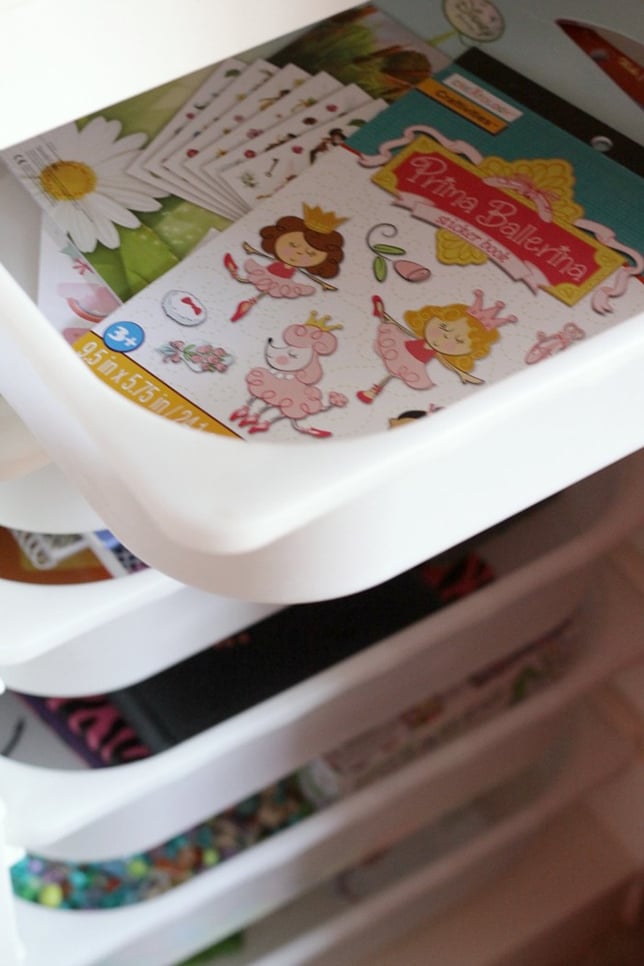 Having everything streamlined in this manner makes it much easier for her to find what she is looking for as we all know sometimes the mess is created during the search!
At the top of the closet you can also see a row of aqua storage bins which hold clothing Emmy has yet to grow into. The use of matching storage bins makes anything look a little tidier with little effort. We carried this idea through to under her bed, where we store all of her toys.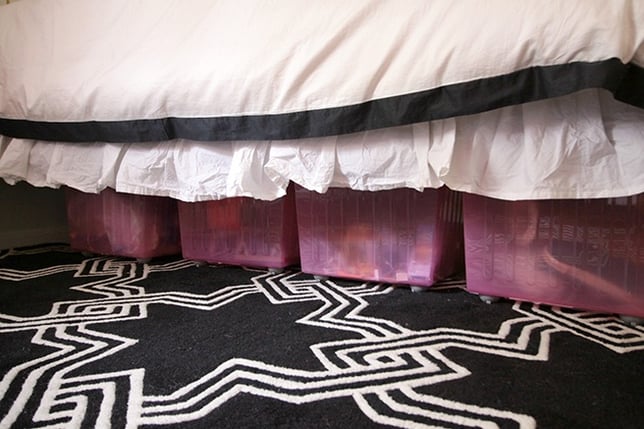 As you can see, we purchased plastic bins on wheels that easily roll under her bed. They are the perfect size to make the most use of that space. To find the right size for your kid's room, just measure the distance from the floor to the bottom of the bed's side rail and find binds that will be a close fit to maximize that space. The wheels are a great touch as they make it easy for a child to pull the bins in and out.
Next to Emmy's bed is a dollhouse- a play toy- but it is dual-purposed, acting also as a nightstand for her.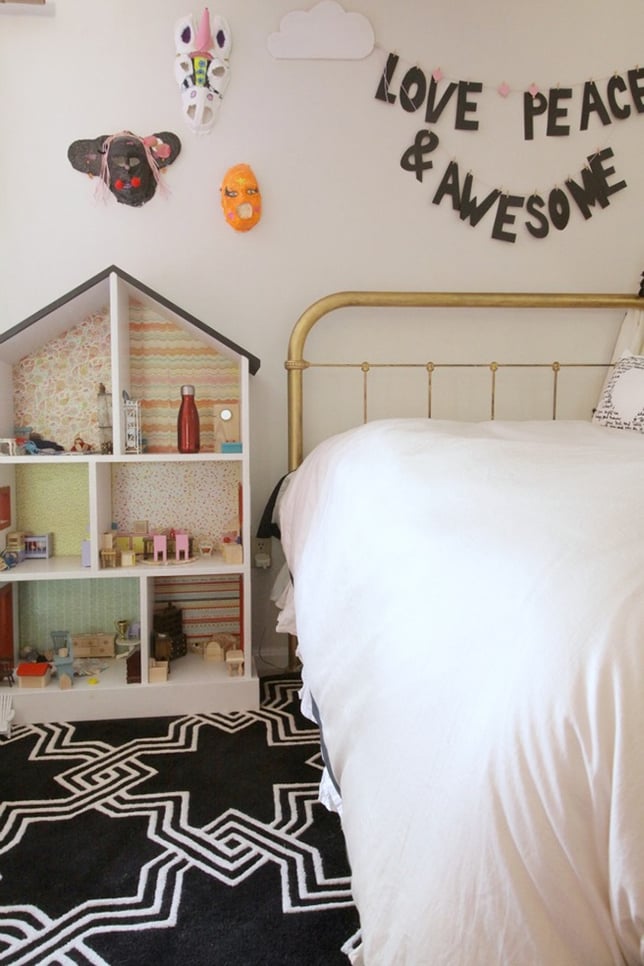 It was a great way for us to provide her with a place to set her nighttime water, while also sneaking in more play space.
Our family loves to read, and happily that is a trait we have passed on to our children, Emmy especially. We didn't have room for a bookcase in her bedroom as we needed space for a large dresser (hello, mini fashionista!). A great way to work in book storage is by adding shelves; you can purchase wall mount shelving or DIY it as we did.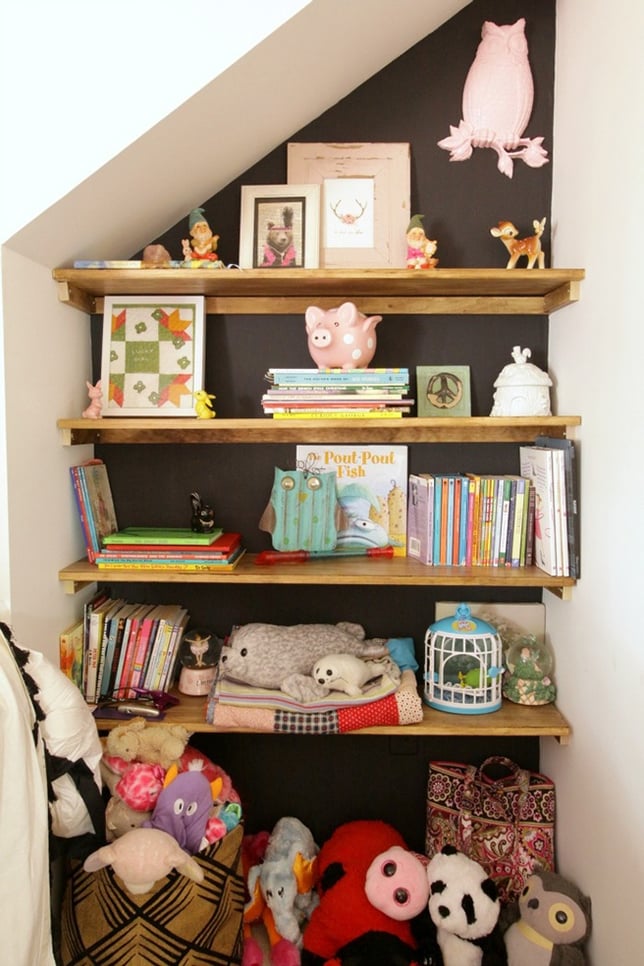 Because we live in a Cape Cod style home, we have an awkward nook in Emmy's room that was perfect for adding shelving. This space now offers her plenty of book storage, display space for things that are special to her, and underneath on the floor, room for her 348 stuffed animals.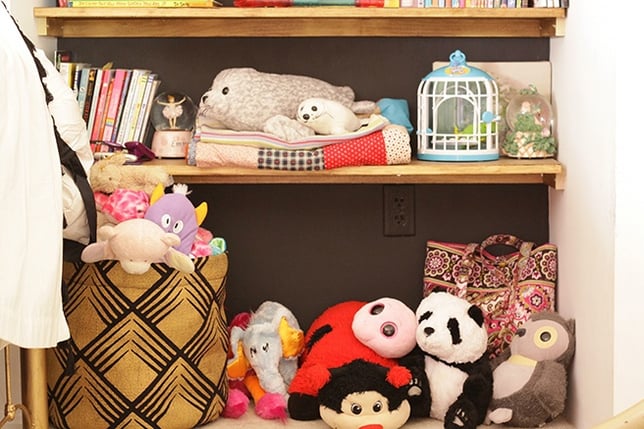 I mentioned that we couldn't fit a bookcase due to needing a large dresser. As many little girls do, Emmy loves fashion. She enjoys a variety of styles and experimenting with them, mixing and matching patterns and colors.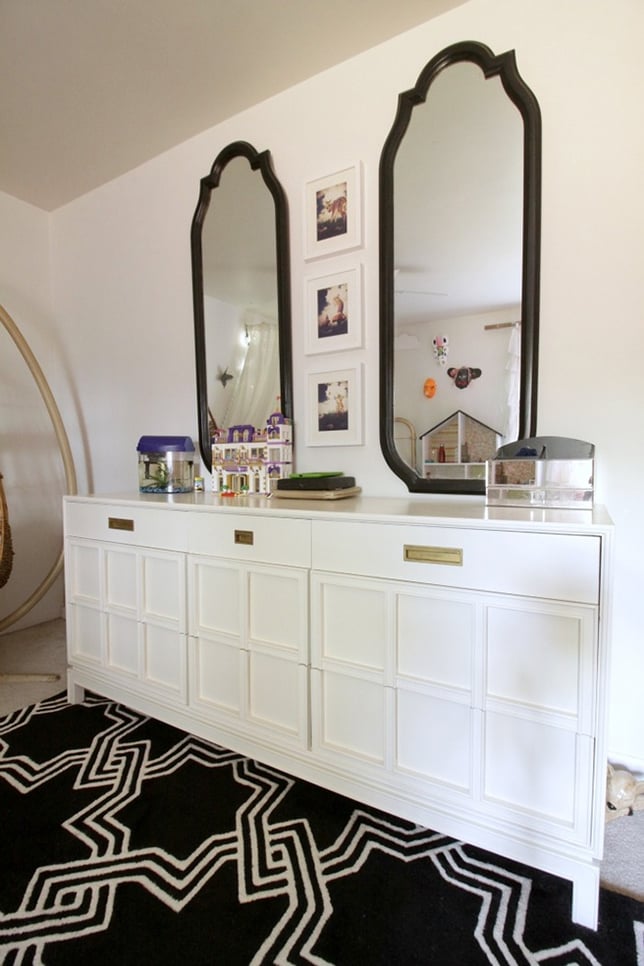 Because of her love for clothing, we needed a large dresser. Last year, I replaced her smaller dresser with this triple dresser I painted for her. The size of this pieces is awesome for storage, but it also gives her a little display space. However, she often piles things up on it leaving a cluttered mess, so we've been working on streamlining. We've created a space for her jewelry at one end, but I also allow her to display her own creations- right now, she's got her new Lego hotel up there, which she proudly built herself.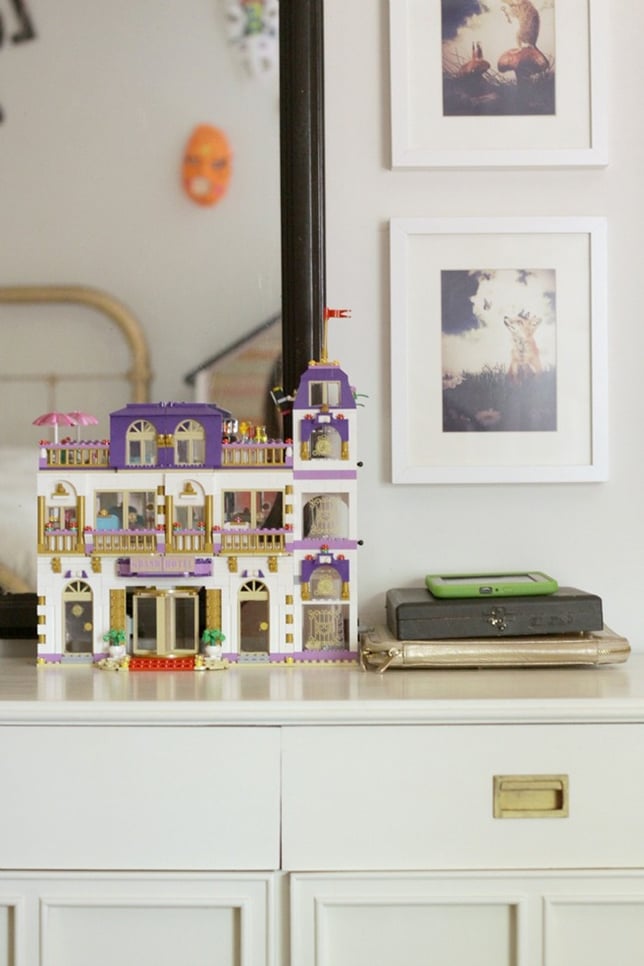 And on the other end of her dresser sits a small mirrored box which serves to hold her earrings, pins, bracelets and other small pieces of jewelry. Adjacent to it on the wall is a pegboard jewelry organizer I created for her.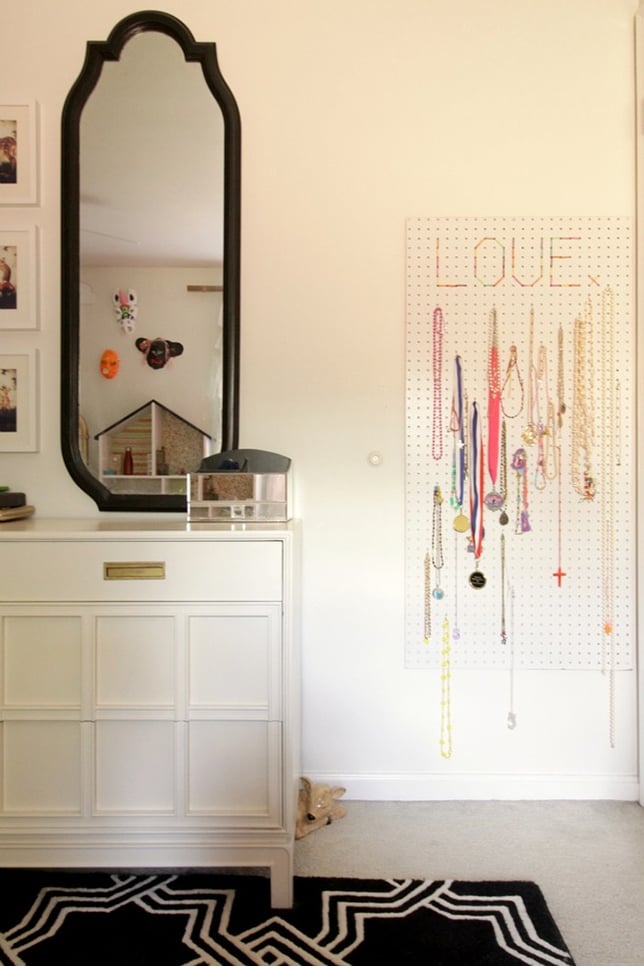 Before we had this organizer in place, her necklaces were always a tangled jumble! A simple pegboard with "S" hooks solved that problem!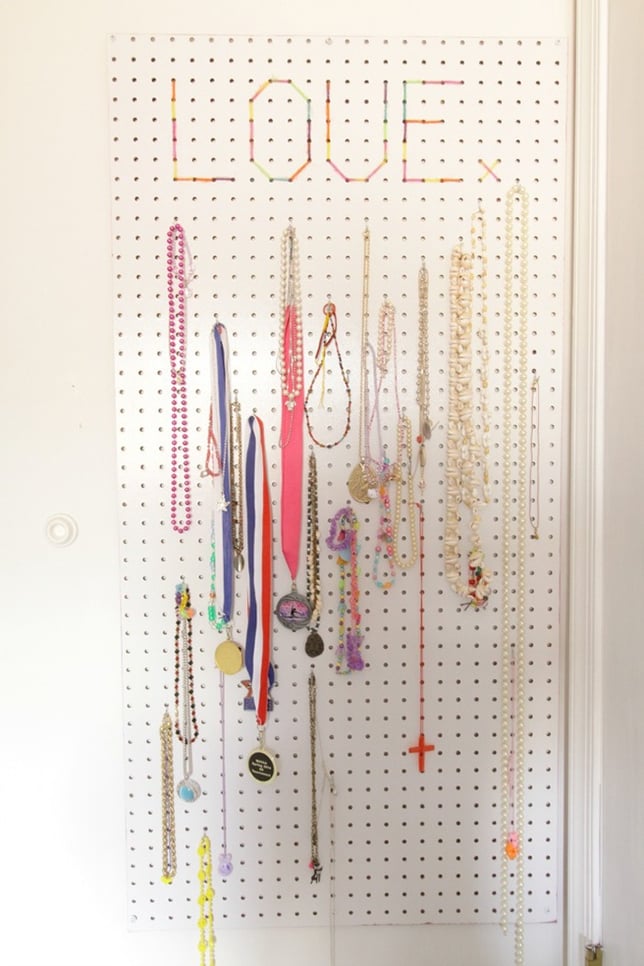 With systems in place that are accessible and easily used by children, you can keep a maximalist child's space organized and clear of messy clutter (which is different than neatly streamlined clutter!).
Best of luck as you tackle those spaces that challenge you in 2016!
---
For more DIY tips, check out the DIY section of our blog or visit our Pinterest page!