March is here and with that come the big games. Basketball season is at its peak and if you're house is the spot for game-day watching, then you should be prepared for those 65 games. We have some easy tips to get your home ready for the madness.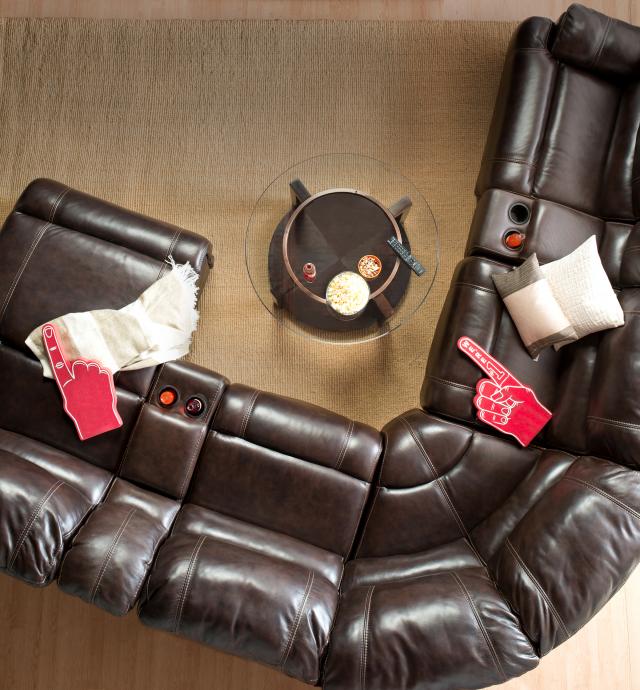 Room Layout
It's best to make sure that everyone has a spot to sit, so do a day-before check of everyone who's attending and count out your seating. For the layout, a semi-circle set-up around the TV is best so that everyone has a good view of the game. You'll want your snack arrangement to be on a coffee table in the middle of the semi-circle so that everyone has access to food and drinks during the game. And of course comfortable seating is a must: whether it's comfy accent chairs or a reclining sectional, you'll want to make sure that everyone is comfortable for the games.
Lighting
If you're having guests over for a day game, you'll want to make sure there's no glare on the TV and that the game is easily view-able. Draw your blinds or curtains and turn off the lights for day-time games, so you can be sure that every play is seen.
Food/Drinks
Just like with any party, food and drinks are a must. Especially finger food which is easy to snack on during the game such as wings, mini hot dogs, burger sliders, or chips and salsa. Try out some game-day themed sweets like basketball cake pops or cupcakes for a more festive approach. Try and keep the food centered on a solid surface to avoid any fabric stains. And definitely try and move your rug out before you have a ton of guests over. Someone is bound to spill!
Brackets
Have your guests fill out their basketball brackets a head of time and have them as the games progress. Some friendly competition is always good to keep the fun going.