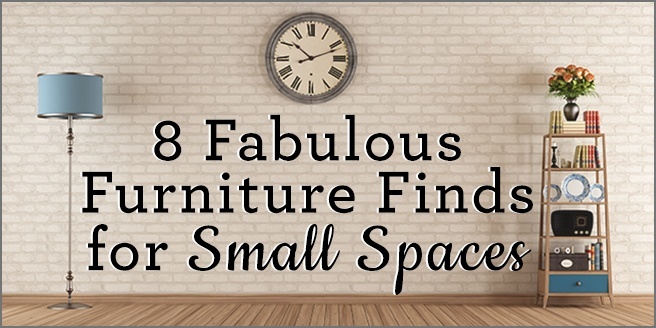 Everyone would love to have that luxurious, spread-out space to live in and decorate but, truth be told, we're often faced with a small apartment to furnish, especially in urban areas.
Enter Furniture.com. We have the perfect pieces for your tighter spaces! Here are two distinct room setups with several furnishings that won't take up too much real estate. First, a chic, modern take on compact living, befitting a student or professional. Next, a more refined look that would work swimmingly as a home office, guest room or retreat in a larger home.
---
Let's start with modern:
The Coopersville glass-top desk fits all your work accoutrements while serving as a space for placing collectibles or just your keys and essentials. In a small room, this versatility is important; with a desk like this you can study or work, display your artistic sense or your interests and have a place for storing everyday living items.
The Karl office chair is great for extra seating and as a perfect office furniture complement to the Coopersville. Seat height adjustment is built in and casters on the durable, brushed nickel base allow for easy movement, even on carpets!
Matching the merlot finish of the desk, you may choose the Frye large bookcase to display your treasures, work papers and books. A classic irregular bookcase, this showpiece is only 12 inches deep and 35 inches wide, fitting in that tight space of yours conveniently.
The focal point of a room should be attractive in form and function, and the Armando futon sofa bed with sound system offers your tight living area seating and sleeping options. Folding down from its sofa position, the Armando becomes a bed, and one with audio speakers, at that. Why waste space with a bulky stereo system when you can have it built right into your futon?
Now for something a little more classic:
This room starts with the early 20th-century mission furniture style of the Wentworth Dark desk and chair set. The desk features an open design, so you can store a file cabinet or boxes underneath, maximizing the space that's at a premium. The chair is not only extra seating, but the ideal companion to the office desk for getting homework or paperwork done, and casters provide convenience.
Also from the Wentworth Dark suite, the sofa table is slim and full of storage or display space, perfect for placement against a wall or behind a sofa.
Fitting in with this deep, chocolate color scheme is the slightly contemporary, but mid-century-influenced, Barclay java-finished futon sofa bed, which combines the relaxation of a Euro lounger and the versatility of a fold-down futon. When you choose this piece that doubles as living room seating and sleeping accommodations, you're well on your way to saving space!
Rounding out this traditional-inflected room is the Cole round end table, which features exotic Zebrano veneers that give the piece a stylish look for a price you can afford. The round shape presents economy of design, taking up less room, while a single drawer provides a little convenient storage for living room or small bedroom accessories.
So, when facing those big design issues for your not-so-big space think of these contrasting furniture pieces to help you conquer the job.
---
We hope we were able to help you decorate your small space! To search for more pieces, check out Furniture.com!