Moving around constantly can cause issues when it comes to buying and picking out furniture. To get a better sense of the challenges involved with moving around a lot, we interviewed Jessica, a military mom who has moved around a ton! Jessica shared her experiences with relocating and how to pick furniture that fits an unpredictable lifestyle.
---
1. Tell us a little about yourself!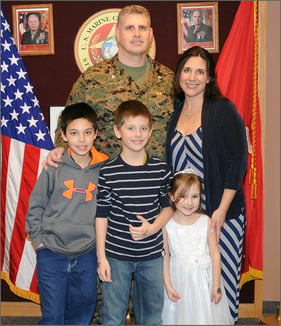 My name is Jessica and I am 41 years old. My husband and I have been married for 18 years and he joined the Marine Corp a year after we got married. We have three children; they are ten, eight, and four- two boys and a girl!
Before having children, I was a Special Education teacher. After our second son was born, I decided to stay home to raise the kids. Being a military spouse, with your husband deployed, or having to make frequent moves, can make it difficult to find a career. I am thankful I could focus on our family for the past 10 years, and now I have a business I can run from home.
I spend a lot of time making my house feel like a home, so finding the right pieces of furniture is important.
2. How many states/countries have you lived in?
Since my husband joined the military, we have moved eight times. We first moved from Buffalo, NY to Dumfries, VA. From Virginia we moved across country to San Diego and were stationed at Camp Pendleton.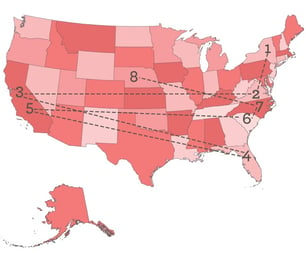 Then, my husband got selected for the Marine Aviation Program, so we packed up and headed to Pensacola, FL. After training there, we moved back to San Diego and Miramar Air Station. After a brief time there, we packed up and headed back across the country to Bluffton, SC, where we started to lay down roots.
In fact, all three of my kids were born in South Carolina. My husband was deployed on numerous occasions, but the family was able to stay in South Carolina for nine years. We did join him at Camp LeJuene in North Carolina for 7 months, but when he deployed from there, we headed back to South Carolina. Our last move has taken us away from the coastline to middle America. We are currently stationed at Offutt Air Fo
rce Base near Omaha, NE.
3. What's the hardest part about moving around so much?
Our last move was the hardest, we had been in South Carolina so long, it really became our home. We had close relationships with friends, neighbors, and our church. We loved the community. Before kids, I was always up for an adventure but now I feel bad about uprooting the kids. The other hard part is completely starting over, finding new friends, a new place to live, and maybe having to find a new job.
4. What's your favorite piece of furniture you currently own? How long have you had it?
Our kitchen table is my favorite piece of furniture! We bought it almost two years ago. I am a big supporter of family dinner nights and at this table we can gather as a family of five, or, if we put in one or two leaves, have the whole family over. It is where we start our mornings, do homework in afternoons, and end our evenings.
5. What's the hardest part about buying furniture for a family?
In the military you never know the location or timing of your next move so you have no way of knowing if your furniture will work in your next home. Sometimes you have to store furniture because it might not fit the same way in the new place. It's also hard to invest in good furniture, because moving can do some serious damage to your furniture. My Grandmother's china is still with my parents because I am afraid of what could happen to in all the hustle and bustle of packing and moving.
6. What do you look for in a piece of furniture when you buy it and why?
With three young kids, the two things I look for are durability and comfort. Kids and furniture aren't always a good match so I want to make sure it will last!
7. What's your design style of choice?
Traditional; I like dark woods and rich fabrics. I want my home to feel welcoming no matter where we are and traditional decor seems to elicit a sense of belonging.
8. What's the one piece of furniture you're most likely to leave behind and buy new?
I am ready for new end tables and a new coffee table. Ours have taken a lot of abuse over the past 15 years, and it is definitely time to replace them.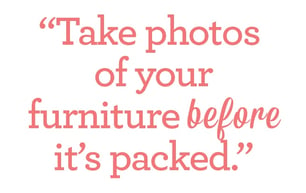 9. What's a furniture tip you have for other families that move around a lot?
Take photos of your furniture before it is packed. Furniture can get damaged, and moving companies don't like to take responsibility for the damage. We have a slip cover for our couch that makes moving so much easier. We take them off before the move, and put them in a box so they don't get dirty. After the move, slip them back on and cover up any damage that may have happened along the way! Plus, you can remove them and clean them as needed.
10. Where would your dream home be?
I fell in love with Palmetto Bluff in Bluffton,SC. It is a community that is right on the May River and it has its own cute little downtown area. You can bike all over the community, and they have an equestrian center and golf course. I love the southern charm and the style of homes that are being built there.
---
For us, home is where the heart is. We hope Jessica's story can inspire and help you when you decide to move or buy furniture. Furniture.com has a great selection at affordable prices. So check us out!