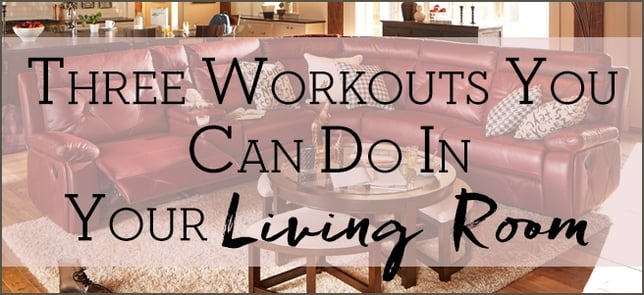 Going to the gym in the winter is tough. It's cold, it's miserable, you just want to curl up on the couch and watch a movie -- we get it. But what if we could bring the gym to you? We scoured the web and compiled a list of exercises that you can do in your living room. Take a break from binge watching and work your way back to a summer bod from the comfort of your home. No equipment required.
---
1. Cardio
According to an article on Greatist, there are a lot of bodyweight excercises you can do that not only build strength, but get your heart rate up as well - AKA, cardio.
One of the workouts we liked, because it's a good exercise and has a cute name, is the "Inchworm." This move is like a burpee, but without standing up and jumping (that's the worst part, anyway.) Move your coffee table out of the way and get ready to workout!
"Stand tall, and bend over until your fingertips are on the floor. Next, walk the hands forward while keeping the legs straight until you've reached a traditional push-up position. Finish off the move by taking tiny steps to get your feet back up to your hands. Repeat for 4-6 reps."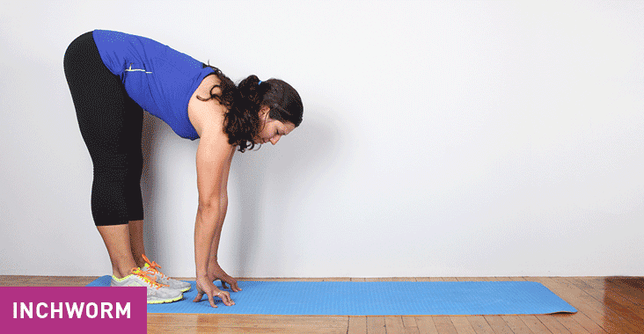 (Photo and workout instructions via Greatist)
2. Abs
We hate crunches- they're boring. Instead, we found a great ab workout on Real Simple. Not only will it tone your abs, but it can be done in 15 minutes.
This workout is called the Bird-Dog, another adorable name. This article is taken a very animal-centric turn.
"To work your six-pack area and back, remain on all fours and tighten your abdominal muscles, keeping your spine and neck in a neutral position; you should be looking at the floor (top illustration). Slowly extend your left leg behind you while reaching your right arm forward (bottom illustration). Keep your hips and shoulders square and make sure your lower back doesn't arch. Hold for five seconds. Slowly return to the starting position and do the move on the opposite side. Complete 5 to 10 repetitions on each side."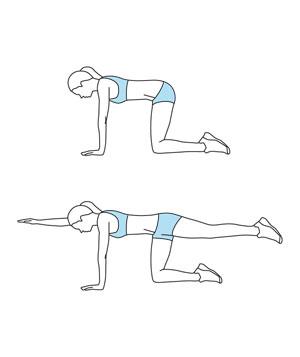 (Photo and workout instructions via Real Simple)
3. Legs
We found a great article on FourFourTwo.com that has eight different body weight workouts to tone your whole body. Personal Trainer, Ray Klerck, take you through some living room exercises that are guaranteed to give you a tough workout.
Unfortunately, this workout doesn't have a cute animal name. These one-leg squats with a chair will tone your glutes, core, hamstrings, and quadriceps in no time.
"Stand, feet shoulder-width apart, with a chair or couch behind you," Klerck advises. "Raise your left foot off the ground by bending your knee backwards. Keep your back straight and slowly squat down by bending your right knee until your glutes touch the chair, before straightening back up to the start position. To increase the difficulty, fold your arms across your chest. Do 4 sets, 6 reps with each leg."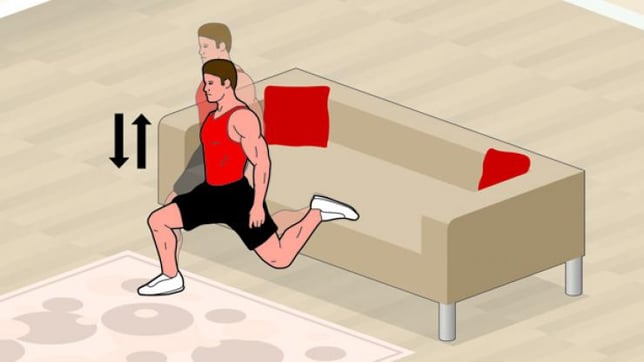 (Photo and workout instructions via Four Four Two)
---
For more fun workouts you can do at home, check out any of the links below.
http://greatist.com/fitness/cardio-bodyweight-exercises
http://www.realsimple.com/health/fitness-exercise/workouts/stronger-abs-in-fifteen-minutes
http://www.fourfourtwo.com/performance/training/living-room-workout#:hRMDo2jzAkn0iA
http://www.menshealth.com/fitness/leg-workout-without-weights
http://www.fitnessmagazine.com/workout/thighs/exercises/hot-legs-exercises/?page=1