The sun has finally decided to shine, school's almost out, and it's nearly summer. The time to honor and thank our dads for their caring support and quirky yet lovable dad-like habits has come. Furniture.com has the perfect living room furnishings for sporty dads to traditional dads and every dad in between. So why not pay tribute to your Dad with some new furniture to brighten up his day and enliven the home? Here are some suggestions.
---
1. The Sporty Dad
This type of dad is young (or at least young at heart), maintains ties to his favorite sports teams, and isn't shy about putting his pride on display. He likes modern materials and enjoys inviting some friends or family over for a day or night of sporting event-watching, drinks and snacks. Maybe he even has a man-cave.
Our Touchdown futon sofa bed series is great for a basement or living area and is perfect for one of his buddies to crash on after a late game. Choose from several different teams, including the winner of the first college football playoff and 2015 National Champion Ohio State Buckeyes, and America's Team, the Dallas Cowboys. Styled in the team's colors, with the name and logo featured prominently on the front, this sofa features black faux leather upholstery, tufting in a grid pattern and chrome feet that exude accessible modern luxury.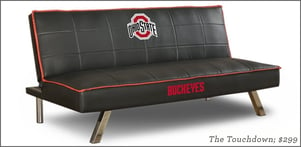 Now, for the drinks and snacks part. That's where the Boyd Percy bar set comes in. A foot rail lends it that true bar feel, while stemware storage slots and ample shelf space ensure Dad will have room for his preferred beverage and finger foods so he can fully enjoy watching the game at home.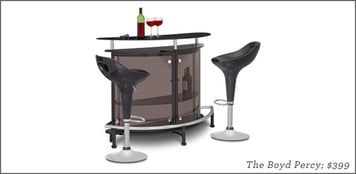 ---
2. The Entertainment-Loving Dad
This next dad is similar to the sporty dad, but he's more into entertainment in a general sense. He's always looking to reproduce that movie theater atmosphere at home and pump up the volume on his jams.
The Frisco power home theatre sectional is perfect for a living room (or screening room) and comes outfitted with lighted cup holders and hidden storage on both deep arms. With this seating option, your dad and up to three friends can take in action flicks in seats that have a sleek, space-age vibe.
Combine this sectional with the Abruzzo white fireplace TV stand (with built-in sound bar) for ultimate media versatility and warm hearth appeal. Your dad can take full advantage of his (or your) music library via a docking port for an iOS device and plenty of storage and wire management for electronics placement.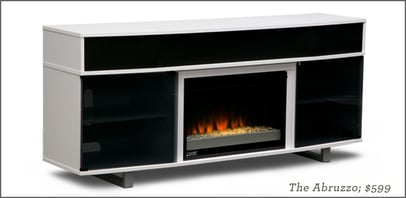 ---
3. The Traditional Dad
The traditional dad appreciates the finer things in life and would be described as elegant and refined.
If this is the case, try the Winchell sofa or three-piece living room package to fully furnish a room. The 100% Ieather upholstery shines through for steeped-in-luxury, sumptuous, and Italian-designed furniture.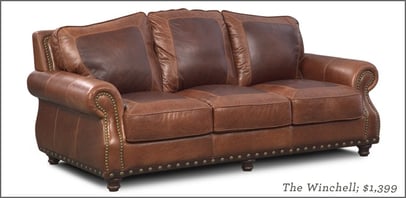 If you didn't think you could give your traditional dad any more comfy luxury, there's the Endicott chair and ottoman to round out the seating possibilities at the homestead.The chair (worthy of a men's social club) even has a slightly curved wing back for added class. You're old-school dad will be so pleased!
---
4. The Rugged Dad
This dad likes the outdoors, camping, fishing and maybe wrangling cowpokes in his spare time.
Whether his home is actually on the range or in an urban oasis, the Sierra sectional sofa and cocktail ottoman will fit his style perfectly. With room for the whole family, or the whole hunting party, this bonded leather piece of furniture is tri-toned for a distressed look that will fit in with his broken-in jeans and leather cowboy boots. The ottoman gives you even more seating space, or a place to kick up your feet, or even still a spot for a tray of wings or slices of brisket.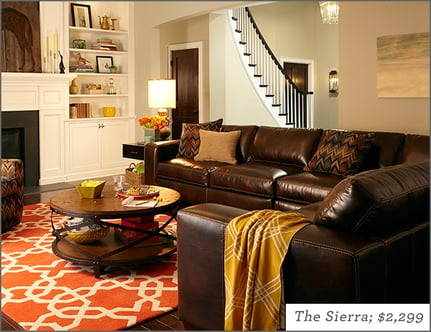 To go alongside this sofa, try the Kent chairside table, whose worn-in, handcrafted look is an ideal companion for your dad's reading material, remotes, and any table lamps he might need to brighten up his space. The X-shaped stretchers give that extra rustic feel which reminds him of something he might have built himself.
---
No matter your dad's tastes are, you can be sure Furniture.com has you covered for decorating his living area or updating his favorite room. C'mon, you know he's done a lot for you over the years; lend him a design hand with our help (remember our Design Team is always ready to assist you with advice and insider deals) and celebrate your dad in style this Father's Day.