Karin Chudy, from Art is Beauty, has been showing us some crafty DIYs lately, but today she's back with a Dresser Makeover.
---
I love me a good dresser makeover and I hope you do too. Today I am going to show you how to save one of those old '70s plastic-front dressers. I got this dresser for free from an in-law. They thought it was hideous and couldn't wait to see it go, but I saw the potential and couldn't wait to make it over.
You can see from the first picture that it was in pretty decent shape. It very much reminded me of the 60's dresser I showed you here before. If you look closely you can see that even though it looks like wood, those front embellishments are actually a plastic framing over a laminate type of wood that has been front-finished to look like wood.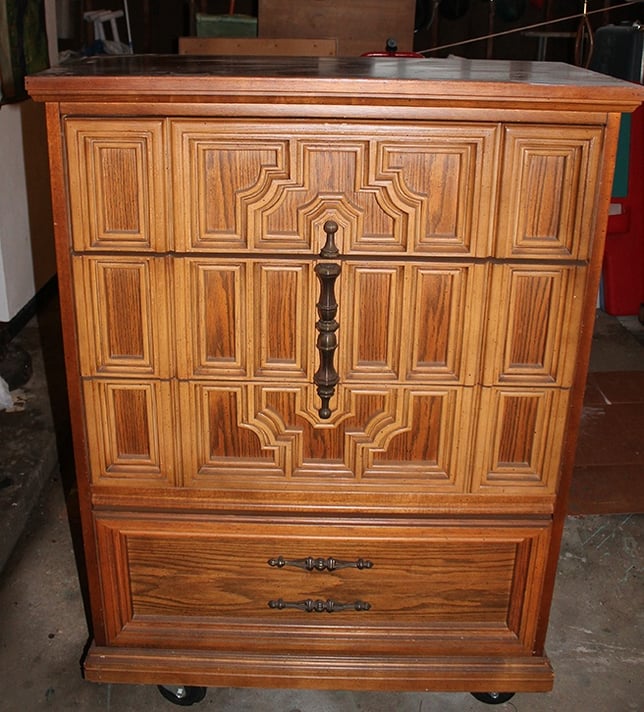 With these type of dressers you could go to town sanding the heck out of them, or you can do what I do and use a deglosser. Now mind you, I still lightly sand the top since that takes the brunt of the abuse but I also use the deglosser on the top as well as the rest of the piece. This makes for quick work. Following the directions, wipe on your deglosser and when its dry, use a damp cloth to clean off the deglosser. It has slightly etched your piece to allow for better paint adhesion.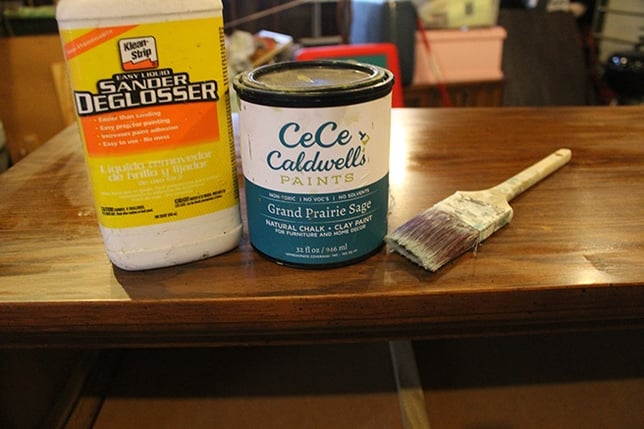 Since this was such a fun piece I decided to give it a sophisticated color. I chose this Sage hue in a mineral paint. I love mineral paint on these pieces because it clings so well to the surface. I took off the old hardware and spray painted it silver and while that was drying gave the whole dresser a thin coat of paint.
Once that coat was dry I gave it a second coat. I would normally distress and wax a piece but I wanted to keep this one a little cleaner, so I didn't distress it, I just gave it a coat of satin polyurethane. (Satin polyurethane cures the paint and gives a strong finish.)
After everything was dry I reattached the old hardware.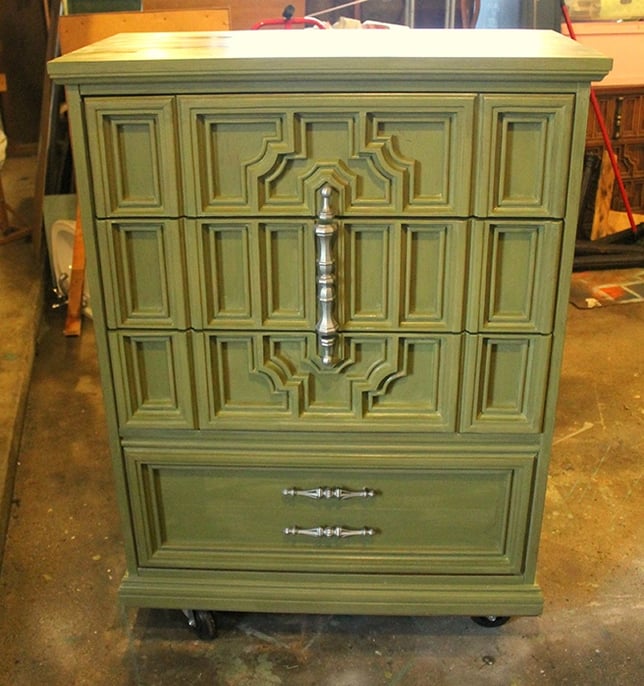 There was so much snow I had no where to photograph but in the store! I loved the difference that little bit of paint made in reviving this piece and apparently Others did too, because it sold in about two days. I hope the next time you see an ugly duckling you will be inspired to take a chance and give the piece new life.