---
We're excited to announce that Jessica Bures from Live Randomly Simple has partnered up with Furniture.com and has come up with amazing DIY tips and tricks exclusively for Pursuit of Home. Enjoy!
---
A while back I spied this bar stool sitting on the side of the road, sadly waiting for the garbage man to come and take it away. I knew it had to come home with me and I ran out to save it before the garbage man tossed it into his truck. The seat was no longer attached, screws still in it, and who knows what all over it. It has seen better days for sure. So I stuck it in my stockpile until inspiration hit.
Then last week at a yard sale I found this old beat up suitcase and the light bulb sparked. I am pretty sure the nice lady having the yard sale thought I was crazy when I squealed with joy when I spotted it. She tried to convince me it was too old and beat up to be saved. Little does she know I had a big plan for this little gem and the fact that it was old and worn just made it even better.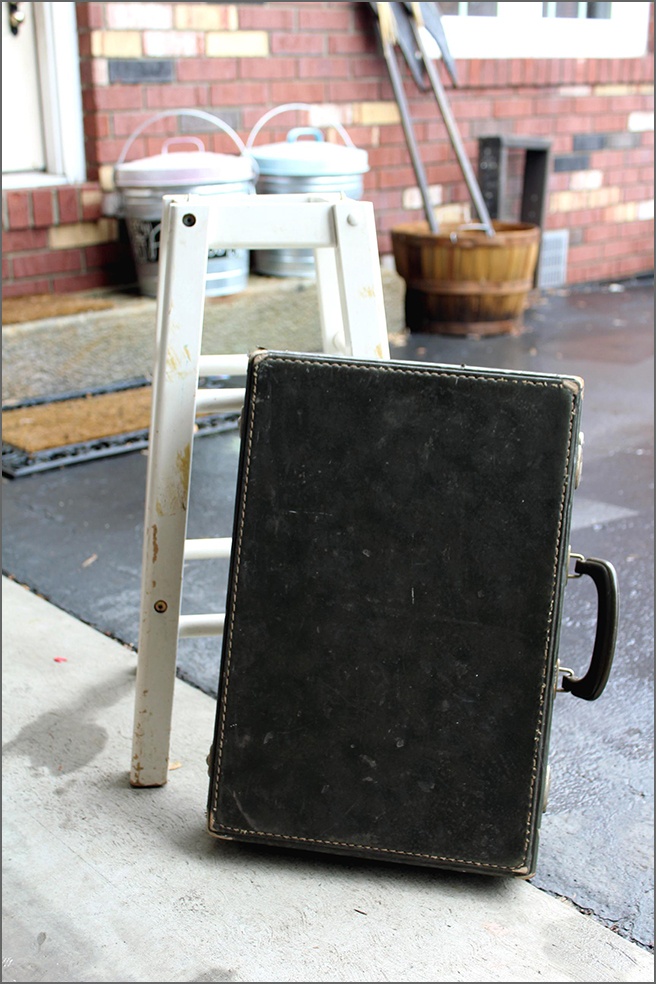 So I took it back to my shop and got to work. It was actually quite simple to put together and only took about 30 minutes total. Let's get started, shall we?
---
Start by giving the bar stool a once over with medium grit sandpaper. I originally was going to paint it, but after sanding all of the grime off I decided it matched the old worn suitcase perfectly and left it be.
The stool was a little wobbly so I tightened up all of the screws with my handy drill. To pop off the screw covers I just used a flat head, pried them off, then stuck them back in.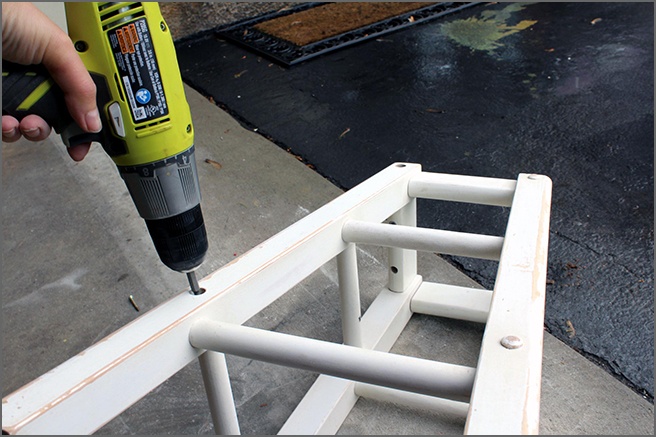 Next, I decided to add some extra support under the suitcase because even though it has a hard shell, I wanted to prevent any possibility of a collapse. (This step can be skipped if you find a hard shell suitcase that can be supported by the stool you're using.) I measured and cut a thin piece of board, to sit under the case. I recommend making the board about an inch smaller than the suitcase, on all sides, so it won't be visible.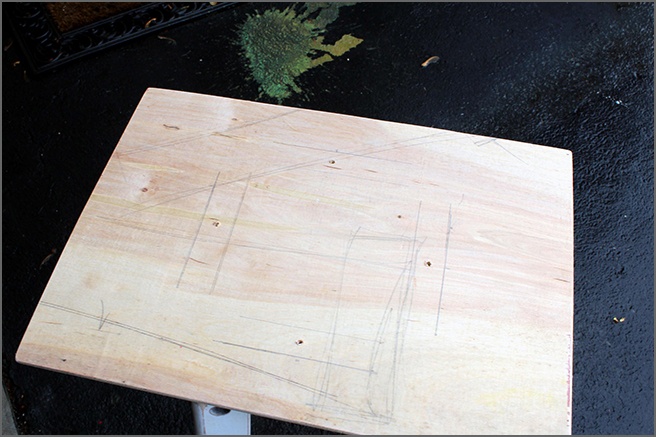 Then I laid the board down, flipped the stool over and centered it on the board. I then traced the stool and determined where I was going to add my screws. Once I had it traced out, i flipped the stool back up. I laid the board back in place and drilled holes through the wood and the stool. Then, I glued the board in place using wood glue so it wouldn't move when I tried to screw the suitcase down.
Next, I put the suitcase in place and screw it into the holes in the wood. I was so excited to see it finished that I forgot to take a photo of this step! The easiest way to line it up is to flip the suitcase upside down, lay the board on it with the holes already drilled. then drill through the suitcase. Once you set the board back in place you can eyeball through the tiny holes to line the suitcase up. Even if it is off a hair it wont effect the end result.
Take it in the house, decorate it, and enjoy your new piece of upcycled furniture. I am going to cherish this piece for years to come. It was so easy to construct and turned out beautifully. I love everything about it!
Added bonus: you can use the inside for storage!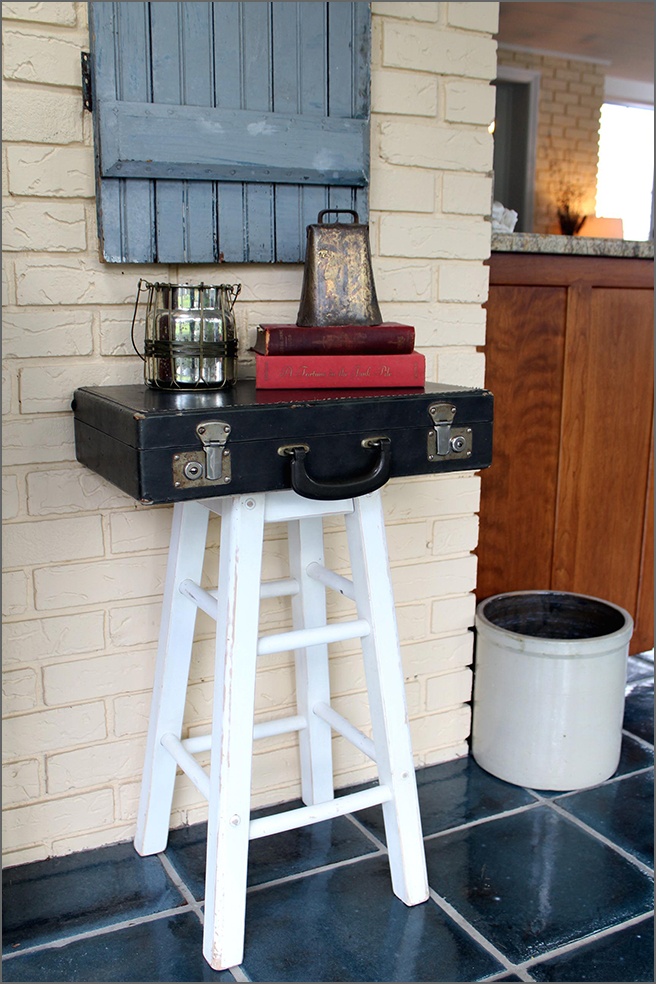 So there you have it. A suitcase end table in just 30 minutes! Be on the lookout at your next yard sale so you can construct your own gem too!
---
We hope Jessica's DIY project inspired you! For more projects, visit Jessica's blog, Live Randomly Simple, or check us out on Pinterest!